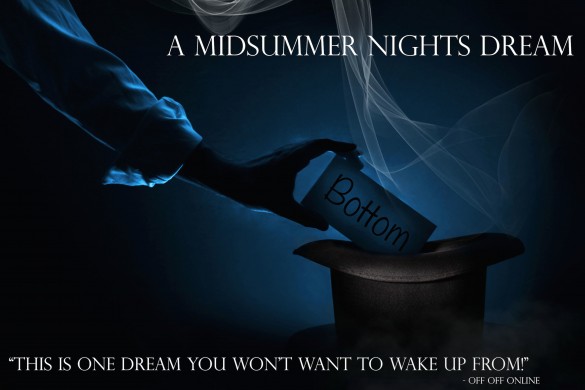 Usually it helps actors to know the entire text of a play in order to play a role. However, in the case of Titan Theatre Company's production of A Midsummer Night's Dream, it's not just helpful but essential — because the actors don't know what roles they will be playing until moments before the performance begins.
After an acclaimed run last year at The Secret Theatre, Titan Theatre Company's production of A Midsummer Night's Dream has returned for an encore presentation at Queens Theatre in the Park in Flushing, New York City after a critically acclaimed run last year. What makes this production unique is that the only set role is Puck — all other roles are selected by the audience out of Puck's hat each night just before the performance again. This ensures that every single performance will be a unique opportunity to see Queens Theatre in the Park's company in residence at work.
The cast includes original A Midsummer Night's Dream company members Jonathan Finnegan (Actors' Theatre of Louisville), Laura Frye (Virginia Shakespeare, Illinois Shakespeare), Sean Hudock ("Private Romeo," Shakespeare Theatre of New Jersey), Gregory Isaac (Chicago Shakespeare, Steppenwolf), Lloyd Mulvey (Milwaukee Rep, Utah Shakespeare), and Emily Trask (Twelfth Night at Folger Theater, Yale Rep, Utah Shakespeare). Joining them are new cast members Nathan Crocker as Puck, Jonathan Hicks and Annie Paul. Bailey Seeker, Nicholas Sotack and Andrew Mazer will understudy.
The creative team for the encore run is comprised of Alan Piotrowicz (lighting design), Scott Frost (costume design), Anna Grace Carter (sound design), Alexis Black (fight choreography), Jasmine Nicole Roberts (scenic design and technical direction), Mary Gunther (assistant director), Alyssa Van Gorder (stage management) and Gabby Acquaviva (production assistant). The production is produced by Titan Theatre Company managing director Kevin Beebee and the late Leonard Banovez, Sr.
The limited engagement begins October 3 and runs through October 12. For tickets and more information about Titan Theatre Company's A Midsummer Night's Dream, click here!