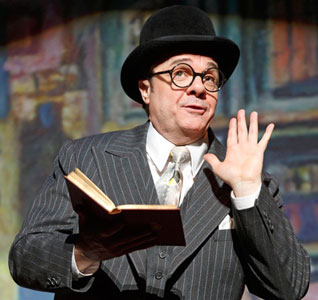 It's hard to think of any actor who has been more associated with Broadway in the last twenty-five years than Nathan Lane.  The two-time Tony Award winner has rarely been off the New York stage during that time and he currently stars in The Nance, a play about a New York burlesque theater actor in the 1930s.  Though he is probably best known for musicals — especially The Producers, one of the biggest hits in Broadway history — Lane made a few surprising revelations to The Los Angeles Times about his future on the stage.
He admits that he sometimes feels typecast after his role in The Producers — not by casting agents, but by audiences.  He explains, "Everyone should have that kind of success in their lives, but there was a backlash.  They want you to continue doing what they just loved you in. When I did Butley after The Producers, people were shocked that I was using a British accent even though I had made my debut in an old [Noel] Coward play."  He says that people who loved The Producers would even turn on it later, saying, "You'd hear, 'Oh, it wasn't that good.' It was like they had awakened with a very expensive hooker and were ashamed that they had given away so much."
Those who have that opinion might be happy to hear that Lane has decided that he will no longer do musicals.  He explains, "You reach a certain point in this life and say, 'I can't do this anymore. I think I've covered that.' Perhaps if some tremendous thing came along, but I would really think twice about it."
Lane's last Broadway musical role was Gomez Addams in The Addams Family, which was popular with audiences but naturally hated by critics.  After his year-long run in The Addams Family, Lane immersed himself in something completely different by playing Hickey in Eugene O'Neill's The Iceman Cometh in Chicago, which he now calls "the best experience of his theatrical life."  He explains why by pointing out, "Because of the description of Hickey and my Irish Catholic roots, I thought maybe one day I could play the role. But I also needed to shake things up and challenge myself as an actor. In many ways, I felt that I had come home.  I wanted to do it in Chicago because I love Chicago so much and because the audiences there are quite frankly better. They're better theatergoers. They're like Londoners — it's part of their lives. They're hungry for that kind of challenging experience."
The Nance's limited engagement ends in August, but even though Lane expressed his preference for Chicago audiences I doubt it will be a long time until he's on another New York stage.