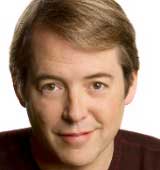 Believe it or not, there was a time when Matthew Broderick wasn't appearing in a Broadway play every other year.  Actually, he is starring in Nice Work If You Can Get It after a nearly three-year absence from appearing on the New York stage which is Broderick's first Broadway musical in over ten years (since the box office smash The Producers).   He spoke to The New York Times about returning to singing and dancing to earn his keep.
Naturally for Broderick the most difficult aspect is the dancing.  He reveals, "The hardest thing for me is remembering the steps, and when they get changed, my brain goes crazy.  I know I'm irritating sometimes to people. I tend to take my time, and I don't like to do too much without an audience. I think it's slightly embarrassing to act full out at 890 Broadway with people looking at you from folding chairs." With a smile, he adds, "It shouldn't really be done."
Despite his years of experience on Broadway, Broderick still takes singing lessons.   So while he feels confident that he's kept up his skills there, he remains a bit self-conscious about his dancing ability.  Thankfully he has help all around him on stage.  He reveals, "I don't want to be overly self-deprecatory. I'm at the point now where I can't keep saying I've never done this before. I think I can do it reasonably well, but on the other hand I'll never be a trained dancer. I see all these dancers around me in this show who really are trained, and they're terrific. They're also very helpful to me. They somehow know beforehand when I'm about to use the wrong foot, and they whisper to me, 'Left, left.'"
Though Broderick was always interested in musicals, he didn't begin appearing on Broadway in musicals until he starred in How To Succeed in Business Without Really Trying in 1995 (for which he won his second Tony Award), he has been an almost yearly presence on the Broadway stage since then.  Still, he admits he can't believe that he's on the stage every night, saying, "It's still very exciting to me, and a little bizarre, that I'm actually up there."  It helps though that he has the opportunity to do something new in this play.  He explains, "It's not a part I've played very often. I like that he's not a wisenheimer, if that's the word.  He's just a not-too-bright guy who likes to drink and party.  He seems to be unaware that he's being funny, and that makes it fun for me."
Of course, Broderick made his name in film, and though he could make more appearing in movies for Broderick the joy of appearing on stage outweighs anything he'd get out of a film role.  He says, "Why do I do it?  That's a very good question. I guess I love it, most of the time — or some of the time. It's what I've done since I was 19. There are some bad parts about having to go on eight times a week, but as opposed to a film, you can really get comfortable in a part. There's a relaxation that comes from doing something over and over."
Nonetheless, the good-humored Broderick can't end the discussion without a joke.  He adds, "Someone once told me that you can get better in a play for about six months and then you start getting worse.  I'm signed up to do this for a year, so if all goes well, I'll start declining sometime next fall."
Nice Work If You Can Get It is currently in previews at the Imperial Theatre and officially opens on April 24.