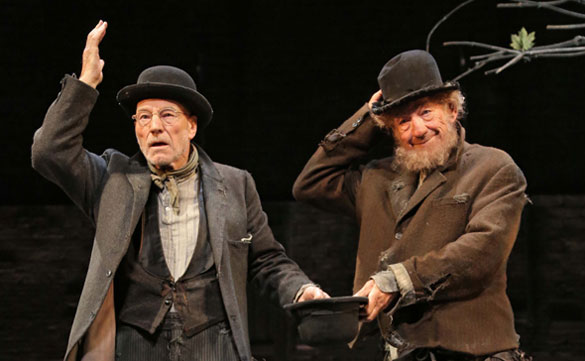 As if Ian McKellen and Patrick Stewart weren't busy enough taking hilarious photos together around New York City and starring in two plays on Broadway, Waiting for Godot and No Man's Land, they dropped in on the New York Daily News offices to answer fans' questions. If you missed the chat, you still have the opportunity to ask the pair questions in person during the scheduled talkbacks after each Thursday performance of No Man's Land in February (you can see our coverage of the first talkbak here).
Below are some highlights from the chat:
What are your pre-show rituals before you hit the stage?
Ian McKellen: I don't have a ritual that goes through from play to play, film to film, but I establish rituals for each project and it's just chance. The way I put on the costume, in what order, is one I'm stuck with. I don't feel comfortable doing it any other way. With No Man's Land the socks go on first, then the pants, then the shoes, then the shirt, then the tie and then the jacket. And that becomes my little mantra as it were. If I go out of order, I feel a little out of sorts.
You are both outstanding actors but what is the biggest blunder you have ever made on stage ?
Ian McKellen: I don't like to synch or talk about mistakes I've made on stage, because the aim of course is that ether should not be any. The biggest mistake I've made is I played Uncle Vanya in London, which began with my character asleep on stage before the audience arrived. But one night I did fall asleep, but woke when I heard my cue subconsciously. Ever the actor, I was able to continue with the scene with the memory of actually having been asleep.
To a younger generation, you two are considered masters. Do you continue to "train" in some way? Do you find yourselves continuing to grow as artists?
Patrick Stewart: "Formally train, not anymore. But there are exercises that we both do. Ian exercises his body more than I do mine. I have recently begun my meditations again and these are aids to performance.
This can so easily sound affected, but as I get older and the roles more challenging, I actually feel that I know less than I did 30 years ago, but what I don't know I trust that my instinct will suffice."
Ian McKellen: "Acting is a craft like making a chair or a carpet. And the more you do it, the better you get at it. So my practice is simply working. And working with new people who shed new light on old problems."