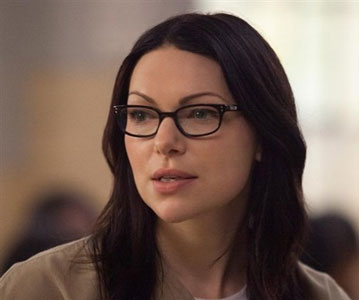 Laura Prepon was a little nervous about taking on the lead role in the Netflix original series, Orange is the New Black. 
"When I read it, it was so good but I was like, 'Wow, [the character]Alex scares me a little bit,' which is exactly why I needed to do it and I'm so glad that I did," she said in an interview with Yahoo! News.  "I feel like every actress is always looking to [push the envelope]because the minute you get complacent, hang it up."
Prepon was also apprehensive about starring in a series with mostly female costars.  "I grew up with guys.  I'm not used to hanging out with a bunch of chicks," she explained.  "My friends were like, 'What are you gonna do with all those women around?'  But they're amazing.  There's not one diva.  Everyone is so cool."
The entire first season of Orange is the New Black is currently available through Netflix Streaming.