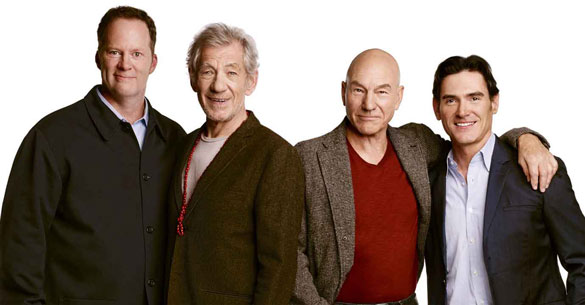 As if anyone needed more excuses to see Sirs Ian McKellen and Patrick Stewart performing No Man's Land and Waiting for Godot in repertory at the Cort Theatre on Broadway (the production has once again extended through March 30), the cast is doing talkbacks after select performances of No Man's Land.
Whether you're a regular theatergoer or you're like the guy in front of me who Googled "talkback" on his phone to find out what the heck was going on after the show, it's impossible not to enjoy hearing four great actors and the production's director talk informally about their work.
Last night's performance of Harold Pinter's No Man's Land was followed by the first of the scheduled talkbacks. It was moderated by the production's director, Sean Mathias.
However, Mathias was as much part of the talkback as his cast, which in addition to McKellen and Stewart includes Billy Crudup and Shuler Hensley. Mathias opened the discussion to talk about the quizzical nature of Pinter's play, saying "You're all probably thinking, 'Wow, that was great, but what does it mean?'" He and the cast then spoke about approaching the text of a play that is purposely written to be full of uncertainties, though Stewart suggested that ultimately No Man's Land is "about aging and how it feels." Hensley and Crudup both admitted to not being familiar with the text before get involved in the production, with Hensley saying he had never read either No Man's Land or Waiting for Godot, to which Crudup humorously added, "Yeah, I don't read."
The audience had varied questions regarding the production, but one question in particular seemed to stimulate the English acting legends on stage. A woman asked about teaching theater to schoolchildren, and McKellen insisted that theater shouldn't be read in school, but instead performed in order for them to understand it. He explained, "If you give a child the text of a play by Shakespeare or Pinter and have them read it, it's like just giving them the sheet music of Mozart and expecting them to understand it."
Of course, the informal nature of the talkback led to more humorous moments. Stewart stopped mid-sentence during a lengthy explanation when he realized the production's two understudies (Joel Leffert and Colin Ryan) were in the audience. He had them both stand up and take a bow, which was a classy way to recognize two actors who probably haven't had many moments to be on stage in this production.
Mathias also got laughs when an audience member asked if either play would be any different if McKellen and Stewart switched roles. Not only did Mathias agree, but he said that he actually initially envisioned McKellen and Stewart in opposite roles for Waiting for Godot, which lasted until the pair told him, "Oh no, you have it all wrong," and swapped roles.
If you missed last night's talkback, there are more to come. There will be half-hour talkbacks after each 7:00 PM Thursday performances of No Man's Land in February (February 6, 13, 20 & 27). If you haven't yet seen No Man's Land (or even if you already have), I strongly recommend that you attend one of the talkback performances. For more information, visit the production's website.