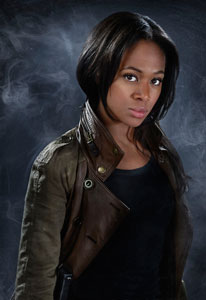 One of the hottest new shows this television season is the Fox drama Sleepy Hollow. For one of its stars, Nicole Beharie, it takes a lot of work to play the physical role of Lt. Abbie Mills who battles supernatural demons each week.
In order to get in shape for the role, the 28-year-old actress tackled a strict exercise regimen.
She told the New York Post, "I started boxing training right before I got here, just because I felt like Abbie would be pretty tough and know how to defend herself."
Now that she's on-set and working long hours, that schedule has changed a bit.
"I haven't been able to continue [training] because our schedule is pretty hectic, but I have videos in my trailer," said Beharie.
Since she's a petite five-feet, one-inch tall, the Fox star never thought she would ever play such a domineering role on a genre show.
"There's a kind of look that happens when you're doing action, horror and sci-fi. I would have to be a really leggy, lean, buxom blond to be doing that, you know?" she laughed. "I was, like, wow — I never really imagined that for myself, so I'm stoked!"
With such a strong character to play, Beharie also knows that she has to keep her adrenaline running all day during the long shoots.
She said, "I'm probably the on-set push-up and exercise queen. I have to do something to maintain the 'oh my God we're running from monsters' energy, even when it's, like, 4:00 in the morning."
Her energy is so infectious that she often gets the cast and crew to join her.
"I'll be jumping rope or doing push-ups — and I'll call all the guys in and be, like, 'Okay, guys — do 25, no stopping, let's do this!,'" she revealed. "It's kind of like my competitive nature. I've never done a role where that was okay. Could you imagine? I'm, like, playing Rachel Robinson — and doing push-ups and high-kicks!"
Catch Nicole Beharie in Sleepy Hollow on Mondays at 9 p.m. on Fox.