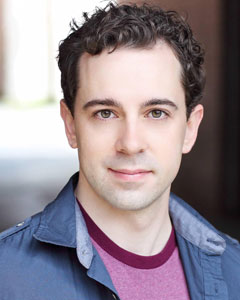 It would have been easy for the producers behind Chaplin, a new Broadway musical based on the life of the famed early film icon, to find a Hollywood star to cast in the lead.  But going that route would have made it unlikely to equal the performance of Rob McClure, who initially received rave reviews portraying the man behind the Little Tramp during the musical's run at California's  La Jolla Playhouse.  In an interview with his hometown NorthJersey.com, McClure talks about how dedicated he is to the role and how closely he studied Chaplin to prepare for his first lead Broadway role.
McClure explains that he has to bring a lot to the role in order to make it "click" for the audience.  He says, "I think what I bring is a sense of having fun – I really enjoy being onstage, and I believe audiences sense that, and it makes them comfortable.  I want them to feel, 'We will choose to believe for the next couple of hours that you're Charlie Chaplin.'  And I'm willing to take risks; when a director suggests something, I won't say no. Warren [Carlyle, director of Chaplin] asked me if I thought I could learn to play the violin if they set up lessons. If he has confidence in me, then I think I can do it."
For instance, while McClure admits it isn't enough just to imitate Chaplin — he says "Doing the 'tramp shuffle' isn't enough, though.  Reenacting what people can see on film would be silly; I have to bring something to the table" — he had to make sure to study the beloved comedian's routines.  He reveals, "I went back to watch his films again.  That little kicking out of the shoulder or knee that he did happens when he's been disappointed. He's shaking it off."  Once he had the movements down he was able to do more with the role, pointing out, "I had to become comfortable, fluent in Chaplin, before I could improvise in Chaplin."
That lead to McClure coming up with Chaplin-ish routines of his own, one of which he had to utilize for his final audition.  He says, "I had six callbacks, and for the last one I had to do a two-minute Chaplin-style routine.  I brought a fly swatter, played [a recording of]'Flight of the Bumblebee' and lost a battle with the bee."  Hmm… definitely sounds like something Chaplin would've done if he had thought of it first!
Chaplin is now in previews at the Ethel Barrymore Theatre.  It opens September 10.