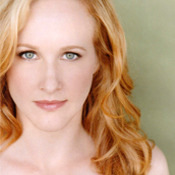 Although she's a Tony Award winning actress, Katie Finneran has had to work tremendously hard on her portrayal of Miss Hannigan in the new Broadway revival of Annie.
"The hardest thing in musical comedy is to be economical with my performance, to avoid being over-the-top for the sake of it," Finneran told The New York Times.  "I'm feeling more pressure about Annie than anything else I've done."
The director, James Lapine, and Finneran had many discussions about the best way to depict the orphanage manager as more than just a joke.  "James basically told me, 'Trust the story, and remember the subtlety we've worked on,'" the 41-year-old said.  "The show makes some sudden leaps in mood, but then again, it's based on a cartoon.  I think there's a chance here for me to show a subtler side of her, and a subtler side of myself to audiences—at least for those who think all I do is play silly dames."
After winning her Tonys for Noises Off and Promises, Promises, Finneran admits, "I knew that no matter what, somebody would always hire a Tony-winning actress, even if it was doing Medea in Idaho."
But the journey to theater success has not always been an easy one for the actress.  Diagnosed when she was young with spatial dyslexia and attention-deficit disorder, Finneran finds memorizing lines "a terribly uncomfortable process."
"I always worry that people think I'm flaky, but learning lines and then understanding the action of a line or the body movement—all of those things together is like a whirlwind for my brain," she said.
Despite her challenges, the actress has proven herself to be a formidable comedienne onstage.