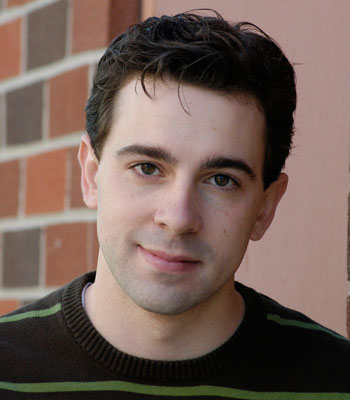 If you're anywhere near San Diego, I highly recommend going to see the new musical, Limelight: The Story of Charlie Chaplin at the La Jolla Playhouse.
Written by Tony Award winner Thomas Meehan (Hairspray, The Producers, Annie) with music and lyrics by Christopher Curtis, it follows Chaplin's life from his early days in London, his rise to be the greatest film star in the world and his downfall from scandal.
The show is fantastic and one reasons for that is its star, Rob McClure. He plays Chaplin and from the moment he walks on stage to the minute the show is over, you will have witnessed something special. I seriously cannot say enough good things about his performance.
I talked to Rob about the show, his research, how he got his equity card and a whole lot more! (And be sure to check out his incredible advice to actors!)
How did you get the part?
Rob: About 3 months ago my agent called and said they were doing a Charlie Chaplin musical. And believe it or not maybe about a year ago I mentioned to my wife, "You know, I would love to play Charlie Chaplin one day…" – and I started to think, "Maybe one day if I get the time I'll write one." Little did I know that Tom Meehan, like Tony Award winning Tom Meehan was already on it [LAUGHTER] and he and Chris Curtis had written it this amazing show.
So my agent called me and they scheduled an audition and I went in and I had about 3 callbacks. I was doing a show in Boston at the time so I was taking the train down every Monday on my day off to go to these callbacks. And the final callback was probably about 5 o'clock on a Monday and they said, "Well, what time do you need to get back to Boston the next day?" I said, "Well I should probably be on a train around noon" and they said, "Ok, well come back tomorrow at 10" – and I live in Philadelphia so I was going, "Okay! [LAUGHTER] This is going to be a little crazy" And then they said, "And have a minute long Chaplinesque thing ready."
So I'm like, "Oh great, it's 5 o'clock on Monday and by 10 o'clock tomorrow morning come up with a minute of…genius, essentially." [LAUGHTER] So, I went home and was up till 3 o'clock in the morning with my wife trying to come up with something and finally we came up with something for Flight of the Bumblebee. I brought in the music for Flight of the Bumblebee and a fly swatter and it was basically me versus an invisible bee. [LAUGHTER] And that was sort of the final audition before they offered me the part.
But I felt a…I felt a strange connection with Chaplin for a long time. My great-aunt Marion always used to tell me growing up that I looked like Chaplin and she was sort of the only person around me that would reference him a lot. So she used to tell me growing up that I look a lot like him. So I'm in this audition process, I've gone to 2 callbacks, and my aunt Tressa – her daughter, my great-aunt Marion passed away maybe about a year ago – my aunt Tressa, her daughter calls me and says, "We were going through your aunt Marion's storage stuff and she painted a 5 foot portrait of Charlie Chaplin – do you want it, cause I know she always used to tell you that you look like Charlie Chaplin" and I said, "You're not going to believe where I've been all week…" And 2 days later I got the part and she gave me the picture.
What was your research for the show?
Rob: Well, the second I started the audition I just dove into the films – I think I've watched them all at this point – and I read his autobiography. I knew that I would have a certain amount of freedom playing Charlie, the man, but I knew that when I played the Little Tramp character, I couldn't screw that up. I knew that people know every little nuance of that character, and people adore that character and there was something very specific about that character that people clung to and had such strong emotions for. I knew that there was no leeway there – I knew I had to get that right. I really just dove in and the more I watched, the more I learned that I incorrectly…I put him into the wrong category. I thought that he was going to be over-the-top and really great at falling down and silly tricks and all this stuff, and the more I watched the more I realized – everyone in that period was falling down and doing silly tricks. There was something else making him special and that something else was something much smaller and something much subtler, and it was those subtleties and those… comic melancholy of him that was so endearing to so many people and it was that specificity that I started to really cling to in addition to the real physical stuff.
Were those bits that you did onstage as the Little Tramp character made up? Did you guys make those up or were they based on something that he actually did?
Rob: Well, a lot of the sort of gesturing and the tipping of the hat and all that is certainly just taken from his physical vocabulary. But in terms of the actual bits, we did try and create our own that were in the spirit of his. I knew that if they had me do a bit from a Charlie Chaplin movie I would never be able to do it. [LAUGHTER] And it was hard to find that balance because he was able to do things for God knows how many takes. So if he needed to do a backwards roll onto an escalator face down and then throw it onto a coat rack across the room, he could do it be he had 100 takes to get it right. So we had to do things that were impressive and daring but things that could be done 8 shows a week and get it every time. So it was finding that balance of things that were seemingly dangerous and seemingly impressive, but that could be realistically achieved 8 shows a week.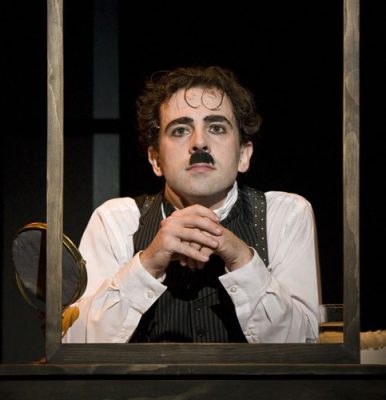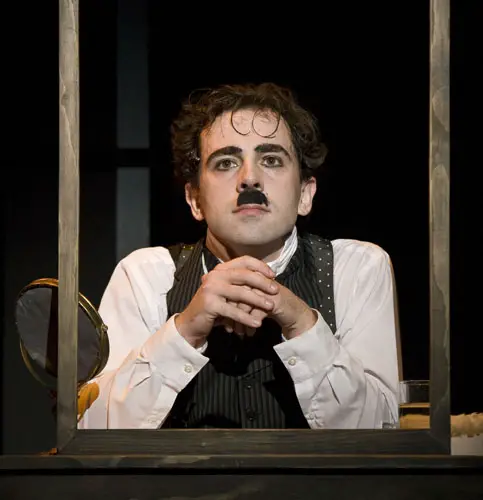 You mention 8 shows a week – this show has got to be exhausting for you. I mean I notice at one point one of the characters in the show actually brings you this rag to wipe the sweat off your forehead.
Rob: Yeah, I have a lot of people handing me rags and glasses of water in the show…because I don't really leave. If I leave the stage it's for a 12 second costume change and then I'm running right back out. So yeah there are definitely sweat rags and glasses of water hidden throughout the set for me. [LAUGHTER]
But you know I do watch his movies and think, "how did this man not get killed?" I mean the stuff he was doing is really out of this world, and I came to learn he broke a finger once. That was the extent of his injuries in terms of…[LAUGHTER]…and when you watch the insanity that he's doing you can't believe that he didn't get really, really hurt. But I was lucky I had a guy named Ben Kamin and he's a Chaplin expert. He's written books on Chaplin, he was Robert Downey's coach on the movie. He's an expert in all things Chaplin and I was very lucky to have him on board to sort of shape my physicality.
How often would you work with him? Throughout the whole rehearsal process?
Rob: He was there every day throughout the rehearsal process and anytime I wasn't being used at either a music rehearsal or a dance rehearsal or a scene…if there was an 8 second scene I wasn't in, we would steal time and we would go in a room and really get as specific as we could. About 2 weeks in he said to me, "Ok so you're at a point now where you look great and I could completely leave you alone and you'll do fantastically well. If you want to go to the next phase of this I might get a little annoying so you might have to tell me if I get too specific." I'm game! I mean, he was so specific how could I say that, "No I'm good, let's just leave it general." I want to get as close to him as I could. So we really did, we dove in deep.
Did you always know you wanted to be an actor?
Rob: I didn't. My freshman year of high school I was in the musical which was Bye Bye Birdie that year and  I didn't do it. I passed on it because I got into a golf tournament and thought I was gonna be a professional golfer [LAUGHTER] So I passed, but then the next year I did the musical – not because I was pursuing it but because it was another fun extracurricular activity.
And girls…
Rob: [LAUGHTER] Yeah, exactly right, exactly right, yeah! I started to realize not that I was any better or worse than anyone at it but that it was just so fun. So, I just started to do shows wherever I could – in community theaters, in the basements of churches – whoever was doing a play I was in.
And then my senior year of high school – there's a theater out in New Jersey where I grew up called The Papermill Playhouse – and they do something called The Rising Star Awards and they send 4 judges to every high school musical in the state of New Jersey and then have basically a high school Tony awards. Which is really wonderful. If you get nominated you get a scholarship to their summer conservatory where you get professional training over the summer. My senior year of high school I tied with Matthew Scott – if you recall he's my brother in the show. 10 years ago we tied for best actor in Northern New Jersey. We grew up 2 towns away from each other, we both got a scholarship to that conservatory and went to it together, and then had our professional debuts together in Papermill's production of Carousel and it was out first professional gig together. And 10 years later he calls me and tells me we're gonna play brothers. [LAUGHTER] So it's been pretty great.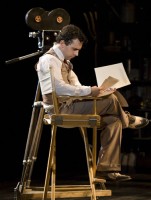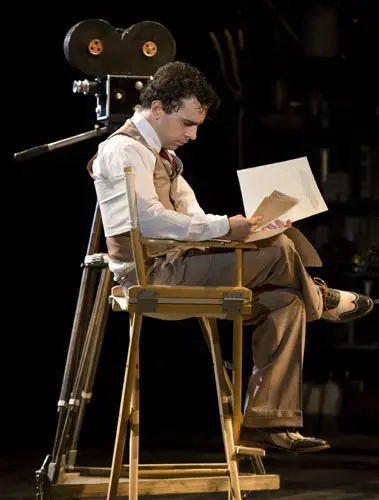 I actually read on your website about how you were told about your first Broadway show and you got your equity card pretty much at the same time. Can you just sort of touch on that real quick?
Rob: Yeah sure. The Papermill was doing a co-production with the Coconut Grove Playhouse in Miami and the Ford Theater in Washington and that was I'm Not Rapport. I auditioned for it and I didn't get the part at first. They went down and did the production in Miami and did the show in Washington, and then right before it went to Papermill, the guy who was doing the part I ended up playing said, "You know" – he was from Florida – said, "You know what, I'm not gonna go all the way up to New Jersey, I'm just gonna do the first 2 stops." So the Papermill calls me and says, "Hey, do you want to take over this role?" – I said I'd love to and I was still, non-equity, making $220 a week or whatever the stipend was for a non-equity performer at the time and about 2 weeks in run the Executive Producer at the time came backstage  and said, "This show is going to Broadway. It's cast and here's your card, and you're in the union now and here we go."
If someone had told me I'd get my Broadway debut playing a villain in a straight play, I definitely would not [LAUGHTER] have thought that was gonna be the case.
How excited were you that day?

Rob: Oh it was really, it was a miracle…just so lucky, I'm just so lucky. You know, so much of this is – you know talent and how hard you work – but we all know just as much if not a larger portion is right place, right time. And that was just a matter of stepping into the process in the right moment. And getting to work with those guys…Judd Hirsch and Ben Vereen. Our director Dan Sullivan who's won multiple Tonys… and it was really just one of the most thrilling learning experiences for me just trying to soak it up. [LAUGHTER]
Yeah, I mean working with those 2 guys alone…that must have been like theater school?
Rob: Oh yeah, absolutely, absolutely. It was like free acting lessons just watching their work.
What's your advice to actors?
Rob: Oh gosh – I didn't start really working a lot until I stopped striving to be the actors I admired and started to just embrace me.
For a long time growing up, I would listen to an album or I would listen to a cast recording I loved, and I would try and sound like that person or I would try and hit high notes that were out of my range or I would try to – I would go to auditions singing This Is The Moment from Jekyll and Hyde because I love that song. But today I realize that I'm not that guy. I enjoy that guy and I enjoy those shows, but once I figured out who I was and what I was bringing to the room that no one else was bringing to the room, when I stopped trying to imitate those I admired and started to really just embrace what it was that I could bring to the room, that was the moment I started to work.
Because, essentially if I'm truly being myself no one else can be that – and that's the thing that I was admiring about those other people anyway, is what is making them unique. So, I think that was the most crucial thing I learned and the thing I try to stay true to now, is really just figuring out who you are and who you're not, and being fine with both of those.
So many people tend to associate the business with 'you're not thin enough' or 'you're not good looking enough.' Well guess what? Next week at the casting call, you're not going to be fat enough. There are stories to be told by every type of human being  and sooner or later it's going to be about you and just being ready and being comfortable enough with yourself  to embrace those types of stories and those types of opportunities. And then people respond to it – when they see that you're unique and they see that you're bringing something to the table that no one else is – they respond to that and you just start to work more and you just start to be more in demand because you're unique. I think that's the best thing I could offer.
Limelight: The Story of Charlie Chaplin runs through October 17th. For tickets, click here