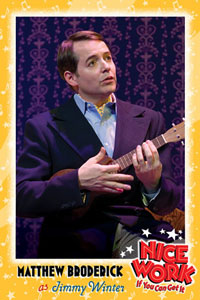 Did theatergoers learn nothing from Patti LuPone's recent freak-out onstage after an audience member got screamed at for videotaping?
Apparently not, as Matthew Broderick was yet another celebrity to abruptly stop a performance in order to ask someone to stop videotaping.  As reported by E! Online, the February 15th production of Broadway musical, Nice Work If You Can Get It, was halted when Broderick noticed someone recording.
Rather than take LuPone's approach and scream for the theatergoer to stop, 50-year-old Broderick broke character, and calmly asked the person to refrain from recording the show.
Guess it didn't take a diva fit for the person to stop.
Nice Work If You Can Get It is currently playing at The Imperial Theatre in New York.