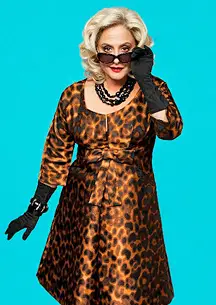 Patti LuPone sat down and talked with Playbill about her new musical, Women on the Verge of a Nervous Breakdown. She talked about opening a new musical on Broadway and how musicals require stamina.
It's been 30 years since you've done a new musical on Broadway. I believe this is the first new musical that you've done in New York since Evita.

Patti LuPone: But that wasn't even a new musical. I was reprising what they did in London. I [originated]Sunset Boulevard in London, Les Miz in London. I don't think I've ever done [an original musical]in New York. I've done two in London. It was The Robber Bridegroom in 1976 that I originated something in New York. The other two were in London. … I mean, I must say that I do get [new]scripts [Laughs], but I don't get anything quite of this caliber. And Philip Rinaldi was the one who — actually, there [were]two workshops that went by without me involved in them — and Philip was the one who said to David and Jeffrey and Bart, "This is something up Patti's alley." So, I'm very grateful to Phillip for including me.
In your memoir, you discussed your grandmother and your mother. They were both strong women. You've also suggested that your grandmother was a bootlegger, and knew her way around a gun.

PL: Yeah, we find out now that [my grandfather's]brother spent time in prison. I come from class. [Laughs.] I come from a lot of class!
Is that family history useful to you? Does it inform Lucia at all?

PL: No, the script. It's the script that informs me. Nothing else.
Musicals require stamina, as you have said in the past. After Gypsy, were you a little hesitant about coming back in another musical? Was it a draw to you to not have to carry this production as the central role?

PL: No, are you kidding? I love carrying shows. [Laughs.] But I wanted to be back with Lincoln Center, I wanted to work with Bart, I wanted to work with David and Jeffrey, I wanted to meet Pedro. Those are the reasons I wanted to do it, and then they assembled this ridiculous cast. I was like, "This is like the icing on the cake!"
You're opening a new musical cold in New York, and you've been doing so much work on it in front of audiences. Is that exhilarating or nerve-wracking as an actor?

PL: It's nothing. It's work. But I don't mean to denigrate it. It's all about the work, and I'm really, really happy that it's always been about the work and is still about the work. I'm not nervous about it. And I'm not carrying it. Sherie [Rene Scott's] carrying it, and it may be a different story for Sherie. But for me, when you do the work correctly, it should only deepen, and whatever they throw at you should only help. And all of this has been a great creative process — the reason I'm in the business. I want to create; I want to perform. So I loved it all, all of it.