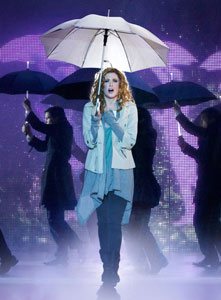 Here is a sneak peek at the upcoming Ghost the Musical, which comes to Broadway March 15th.
Calling it The Ghost Light Sessions, the video is a little over 15 minutes but you get a nice taste of the show and songs. I'm not the biggest fan of Movies-to-Broadway but from everything I've seen and heard about the show, it should be a good one.
In the video, you can see performances from stars Richard Fleeshman, Caissie Levy and Da'Vine Joy Randolph as well as interviews with the fantastic cast and creative team, including music legends Dave Stewart and Glen Ballard, and Academy Award winning writer Bruce Joel Rubin, about bringing this highly anticipated new musical to Broadway.
Set in modern day New York City, Ghost The Musical is a timeless fantasy about the power of love. Walking back to their apartment one night, Sam and Molly are mugged, leaving Sam murdered on a dark street. Sam is trapped as a ghost between this world and the next and unable to leave Molly, who he learns is in grave danger. With the help of a phony storefront psychic, Oda Mae Brown, Sam tries to communicate with Molly in the hope of saving and protecting her. 
Tickets are currently on sale and may be purchased at the Lunt-Fontanne Theatre Box Office (205 West 46th Street), via www.Ticketmaster.com or by calling 877-250-2929. Ticket prices range from $57 to $137 (including a $2 facility fee).  
The rest of the cast are as follows: Bryce Pinkham as Carl Bruner, Tyler McGee, Lance Roberts, Moya Angela, Jason Babinsky, Michael Balderrama, James Brown III, Stephen Carrasco, Jeremy Davis, Sharona D'Ornellas, Josh Franklin, Albert Guerzon, Afra Hines, Carly Hughes, Karen Hyland, Alison Luff, Vasthy Mompoint, Jennifer Noble, Joe Aaron Reid, Constantine Rousouli, Jennifer Sanchez, Daniel J. Watts, and Jesse Wildman.