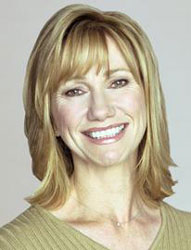 Most actresses dread the time in their career when they can no longer play younger roles.  But Kathy Baker has managed to avoid the lull by finding quality parts despite her age.
"I've always believed that if you are willing to play your age that you will work, so it's the thing of continuing to play your age and accepting it when you're younger and you suddenly realize, oh, now I'm playing the mom, oh, I'm playing the grandma.  Some parts are smaller," she said in an interview with The Los Angeles Times.
Baker admitted the scariest part of aging would be "to not have those chances" to find good roles.  The actress is currently appearing in Joanna Murray-Smith's The Gift at the Geffen Playhouse in Los Angeles.  The 62-year-old has managed to go back and forth easily between theater and movie roles in her decades-long career.
When asked which is scarier, film or theater, she said, "I think it depends on the role, what's scarier, but I find this [play] particularly scary because as I get older, I worry about my memory and my stamina.  I worry about my creaky physicality.  There are a couple of physical things we have to do in the play that I was worried about.  It really depends on what's scarier—to walk on a set and know you have to hold your own against Tom Hanks, or if you're going to do an hour-and-a-half play in front of 500 people."
One of the challenges of growing older for Baker is making sure she's able to memorize all of her dialogue.  "I was worried about that as I got older," she confessed.  "My doctor told me that the ability to memorize is a different part of your brain than the ability to remember your friend's name when you see them on the street.  But those other things…I'm always saying to my husband, 'Honey, will you hand me the thingy because I have to do the dealy-bob,' but I somehow can remember lines."
Click here for tickets and showtimes to The Geffen Playhouse' The Gift