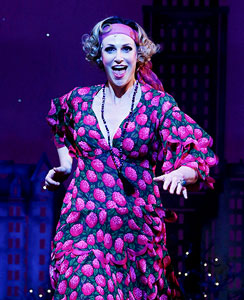 Five years ago Jane Lynch was best known for her hilarious appearances in Christopher Guest's ensemble mockumentaries and doing abbreviated runs on soon-to-be-canceled television series.  Though she was a familiar face, she never seemed to reach her potential.  Then came Glee and her career-changing starring role as Sue Sylvester… and Lynch's world has never been the same since. 
Now she is fulfilling one of her longtime dreams starring in Broadway's Annie as Miss Hannigan.  She gave a lengthy interview with The Star about how she got here and how she doesn't really care where she ends up going.
Despite Miss Hannigan being a nasty character, Lynch admits that she's really enjoying her Broadway turn.  She says, "I'm having a blast.  She's an amazing character. She hates what she is, but she's got enough energy to try and get past that. But don't get the wrong idea. Once I'm doing a part, I just show up every day, put on the clothes and do my thing."
Though this is Lynch's first role in a Broadway musical, she reveals that she has always aspired to be on stage.  She explains, "I can't remember a moment when I didn't want to be a performer.  I remember going to my first school play. I was only in the audience, but I remember the lights coming up on stage and I knew that I wanted to come to this party. Even more important, I wanted to be invited to the party."
However, even though audiences love Lynch now she didn't receive the same reception when she was starting out.  She admits, "When I was young, I wasn't one of those easy people to cast. I hadn't grown into myself. In my teenage years, I guess I suffered more. I wasn't hot stuff and I wasn't being picked by the in crowd. I wanted to be an actress. That made me even more awkward. But I'm always rather plucky. If you tell me I can't go in the main entrance, I'll find the back door and get in that way."
Still, Lynch's first attempt at taking New York City by storm after finishing grad school didn't work out for her.  She confesses that it "was a big mistake, I know that now. It's a hard place to be when you haven't really found what you want to be yet. I didn't have any connections. I didn't have any schlep to get into the right kind of auditions. I wound up playing a witch in this off-off-Broadway production of Macbeth that was so ridiculous and poorly organized that a guy who started out playing one of the spear-carriers wound up as Macbeth on opening night.  We closed at intermission on the second night."
Not finding success in New York, Lynch went back to Chicago (she grew up and went to college in Illinois), which was a much better fit, eventually becoming a member of Second City.  Lynch points out, "I realized I was just where I wanted to be. It didn't matter where we were performing, every night was a joyous show. Sketch comedy."
That eventually led to a role in Harrison Ford's 1993 film The Fugitive.  Lynch recalls that Ford gave her a great piece of advice: "If you leave your mouth open, no matter how smart you are, you look stupid."  That convinced her to again push harder in her career, leaving no opportunity missed.
Now that Lynch has made it in movies, television, and on Broadway, there doesn't seem like there's much left for her to conquer.  In fact, she admits that she doesn't have plans for herself.  She says, "I don't make lists. I don't have aspirations. It's served me well. I do all the footwork and then I allow the universe to roll in at my feet. I make good decisions when they're offered to me, but I don't go looking for them."