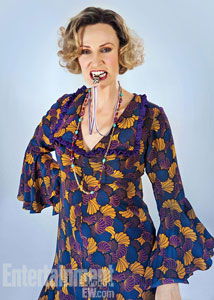 Though Jane Lynch has already admitted that she is scared about making her Broadway musical debut as Miss Hannigan in Annie this Wednesday, she confessed to The New York Post that she secretly always wanted to do the role.
She points out, "I used to have a list of things I wanted to do and Miss Hannigan was one of them." 
However, Lynch had never seen a production of the musical until this January and she has never seen the 1982 movie adaptation.  So when she talks about what made her always want to the role, she reveals that it was a result of her love for the 1977 original cast album, which featured Dorothy Loudon as Miss Hannigan.  She clarifies, "I know the soundtrack of course — every breath of it!  And I don't know if I ever had the cojones to say that I wanted to play this role on Broadway, but I've always wanted to do musicals."
In fact, Lynch has not appeared in a musical since college (though her starring role on TV's Glee certainly has kept her voice in shape), and though she has in-depth knowledge of the soundtrack she's concerned about the other major performing aspect of musicals: dancing.  She explains, "I have no trouble getting into Miss Hannigan's head.  It's getting into her tap shoes that's a little bit more of a challenge!"
Regardless of the challenges, Lynch will perform in the musical for two months only (her last performance is July 14).  I have a feeling tickets might be hard to come by!