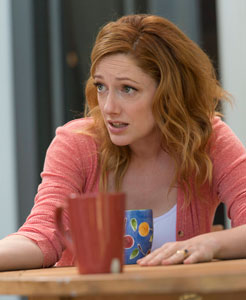 As the actress who has played the best friend to some of Hollywood's most familiar faces like Jennifer Garner and Jennifer Lopez, Judy Greer must know a thing or two about auditioning. She's nailed the role countless times to become one of Tinsel Town's most successful character actresses.
She talked to Co.Create about her thoughts on the dreaded audition.
Greer shared, "I get a little bit of a high from auditioning, almost like going on a first date where I'm challenging someone to like me. And if I do two pages of a weird scene in front of a room full of strangers, that's still acting and it's also good practice."
Even though her audition for Bridesmaids didn't turn out the way she wanted, she locked down a role in this summer's monster hit,  Dawn of the Planet of the Apes, thanks to a successful read with director Matt Reeves.
The 39-year-old star talked about why keeping the audition practice going is important to her.
She explained, "If I've been working for a while and haven't been to a lot of auditions I'll ask my manager if there's stuff I can go in on that's not super important, so when the big one comes up again I'm not like, 'I haven't done an audition in three months I don't know what I'm doing!'"
Greer is currently starring in FX's new sitcom, Married, and she has a new book out, I Don't Know What You Know Me From: Confessions of a Co-Star.