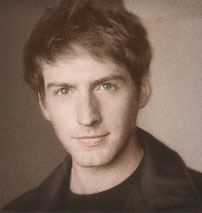 One of the current most acclaimed — and most successful — shows on Broadway is Death of a Salesman, starring Philip Seymour Hoffman as Willy Loman and directed by Mike Nichols. 
Playing Bernard, the initially nebbish son of Loman's neighbor Charley who grows into a successful lawyer, is Fran Kranz, best known for starring in most of Joss Whedon's projects, including the upcoming The Cabin in the Woods. 
For most actors, getting a role in this limited production of Death of a Salesman might have been a dream come true, so how did Kranz get cast?  He tells Theater Mania, "My agent called to tell me about this production and so I flew back to New York from Los Angeles to audition. My first instinct was to read for Happy; but I was told Mike Nichols only wanted to see me as Bernard. As it happens, Finn Wittrock auditioned the same day for Happy, and the casting director ran right after him when he was done. So I thought, 'if they want you, they're going to chase you.' They didn't chase me. Well, I actually made it to the elevator when they caught me and asked me to come back and read for Scott Rudin. And then I got the part the next morning."
Once he accepted the part, Kranz's next challenge was figuring out how to best portray a character who appears in two distinct versions.  He explains, "My first instinct on playing Bernard was to highlight that transformation — to show how this anemic, worried boy becomes this self-assured man. During the audition, I asked Mike if he had any ideas for me and he said this character is all about transformation, which gave me a lot of confidence. Since I got the part, it's gone back and forth about which part of Bernard is harder for me. Early on, I was worried that I was becoming a parlor trick, like a movie superhero who changes costume in a phone booth, and that I wasn't threading the two 'people' together. I am also aware that it's Willy's perception of Bernard that we're seeing in every scene."
Death of a Salesman is now at the Barrymore Theatre.  It runs through June 2.