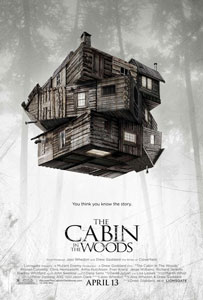 I'm not a fan of horror movies at all. They're usually all the same re-tread story: A group of kids get in trouble, dying one by one in the hands of a mad man. By the end of the film, a nubile young woman outsmarts the killer and walks away the only person to survive.
The plots are the same, the killers are usually different and getting creepier each film and they all try to  ramp up the deaths either in creative ways or by adding more and more blood.
So, horror films? I can take 'em or leave 'em.
Then, on a rainy Friday afternoon at SXSW, I saw The Cabin in the Woods.
Written by Joss Whedon and Drew Goddard and directed by Goddard, the film takes what you know about horror films and turns it on its head. By the end, the film drops the proverbial microphone and says, "I'm out."
This will be a spoiler free review (because if not, I'll get shot by a covert team of assassins sent by Lionsgate) so what I can write in this review is limited. The story is about five college friends (Chris Hemsworth, Kristen Connolly, Anna Hutchinson, Jesse Williams and Fran Kranz) who go to a remote cabin in the woods. On there way there, they meet a spot-on old creepy gas station attendant. You seen this guy portrayed a million times in movies over the years but he's not what he seems, in fact, once they arrive at the cabin, nothing is as it seems.
And that's all I'll tell you.
Ok, I'll also tell you that Bradley Whitford and Richard Jenkins also star.
But that's it! I want you to go into the The Cabin in the Woods with as little knowledge of the film as possible. This isn't like most films. Once ounce of information could possibly ruin it for you and that would almost be a crime. It's absolutely gotta be viewed with fresh eyes.
That cast is fresh and all on their game because you can almost tell they are relishing working on a genre-busting film. Whedon and Goddard created a film that could very well turn horror movies upside down like Scream did back in 1996.