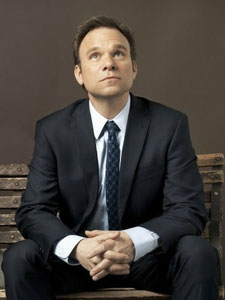 So if you already have gotten two Tony Awards for Best Leading Actor in a Musical, you shouldn't be getting nervous about taking your next lead role on Broadway, right?  Based on his interview with The St. Louis Dispatch, Norbert Leo Butz would disagree with you.
With the Chicago tryout of Big Fish — a musical adapted from the 2003 Tim Burton film — now wrapped up and heading to Broadway in September, Butz admits he's feeling nervous about it.  He confesses, "Talk about a tough gig.  I hope somebody will get some inspiration, some positive re-enforcement, from it. This acting thing is not for sissies.  But when I was in college, you couldn't have told me that I wouldn't be a working actor."In fact, he was convinced he would become an actor ever since high school, in which he starred not only in his high school's plays but also in plays in all-girls schools in his hometown.  He says, "The acting bug bit me before I graduated.  I just fell in love with theater, with a love bordering on the obsessive. I couldn't get enough."
He points out that what has been encouraging for him is the steady stream of work he has been lucky to receive.  He says, .  "The only thread through my career is near-constant employment.  That is a huge, rare gift in the theater. I just marvel that people are still asking me to do things. I feel most at home, most myself, when I am working on a show."
That constant employment continues in Big Fish… but he's still going to be nervous about it!