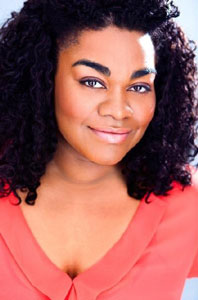 Every professional or aspiring actor knows that a day job will, at some point, be a part of the career equation. For Da'Vine Joy Randolph, this was a reality. Only a year a go, Randolph was working as a nanny in Harlem, in order to support herself while pursuing auditions in New York. Fast-forward to today, and Randolph is not just a successful working actor: she has achieved a major supporting role in a Broadway musical, and has also earned herself a Tony Nomination.
Randolph recently chatted with The Associated Press about her whirlwind year.
When auditions were announced for Ghost: The Musical, Randolph was immediately interested in the role of "Oda Mae Brown" (originally played by Whoopi Goldberg in the 1990 film). However, Randolph did not consider herself to be a competitive candidate. "They wanted someone older. They wanted someone who had star pull." Randolph understood the distinct reality about being a no-name actor in a name-driven industry. "I was like, 'I'm none of these things.'"
Despite this, Randolph decided to give it a shot.
She contacted her agent to try to set up an audition. "I was like, 'Look, I know this sounds crazy, I don't even know if I know what I'm talking about, but can I get seen for this?'"
Unfortunately, the production was not seeing actors for the role of "Oda Mae Brown." Nevertheless, as the Associate Press continues to report, "the agent persuaded [her] to go to an open audition for an understudy role." A couple days later, Randolph received a callback.
Randolph had to prepare many scenes, and was required to perform two of Oda Mae's songs – 'Are You a Believer?' and 'I'm Outta Here.'"
Randolph discussed the second audition. "I just remember telling myself, 'Be True to yourself and just play." However, with all the other talent present at the audition, it was a stressful experience. "I was too nervous to be looking at people and connecting."
To top off the nerve-wracking second audition, Randolph was also not convinced she had performed well. "I remember calling my agent and saying, 'I didn't get it. I could tell.'" However, a few days later, Randolph found out she was cast in Ghost. But, there was a catch.
"I thought I got the understudy job … [f]or about two days I thought that. [My agent] called me back and [was] like, 'Wait. Just checking. You know you're going to be on Broadway? Like, Broadway, Broadway?' I went, 'Yeah understudying.' 'No, Da'Vine, you're going to actually do it.' I was like, 'For real?'"
Randolph is now being honored with a Tony Nomination – a great tribute for even the most seasoned actors.
With all of her rare success, Randolph remains thankful. "It's been an amazing, amazing ride."