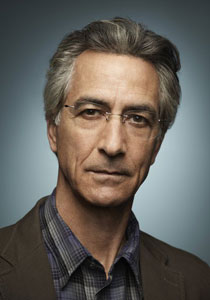 It was just announced that Academy Award® nominee and Emmy® Award winner David Strathairn will join Academy Award® nominee Jessica Chastain in the Tony Award®-winning play The Heiress. 
Written by Ruth Goetz & Augustus Goetz, The Heiress will be directed by Tony Award® nominated playwright and director Moisés Kaufman and will open in the Fall of 2012 at a theatre to be announced.
This production marks 17 years since the celebrated play was last seen on Broadway. The Heiress is based on the classic Henry James novel Washington Square and became an Academy Award-winning film.
Strathairn won the Volpi Cup at the Venice Film Festival and in 2006 earned nominations from the Academy, Golden Globe, Screen Actors Guild, BAFTA and Independent Spirit Awards for his compelling portrait of legendary CBS news broadcaster Edward R. Murrow in George Clooney's Oscar-nominated drama Good Night, and Good Luck. He won an Emmy in 2010 for Best Supporting Actor in the HBO project, Temple Grandin. He's kept a high profile in the theatrical world with roles at such venues as the Manhattan Theatre Club, the New York Shakespeare Festival, SoHo Rep, the Hartford Stage Company, Ensemble Studio Theatre and Seattle Repertory. Chastain was nominated for a 2012 Academy Award®, Golden Globe® Award and a Screen Actor's Guild Award for her performance as "Celia Foote" in The Help. Her work in The Tree of Life and Take Shelter has garnered critical acclaim and multiple awards as Best Actress from the National Board of Review, New York Film Critics Circle, Los Angeles Film Critics Association and Chicago Film Critics Association.