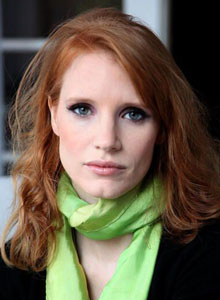 Jessica Chastain has been nominated for numerous awards this season for her roles in this year's Take Shelter and The Help, and even already won the New York Film Critics Circle Award for Best Supporting Actress for those two roles as well as well as her supporting role in The Tree of Life. 
She'll likely rack up a few more nominations in the New Year.  Chastain also appeared in Coriolanus, Texas Killing Fields, and Wilde Salome in 2011 alone, demonstrating her broad range as an actress. 
In Interview Magazine she speaks about how she adapts to new genres and what she learns from her roles.  Interestingly she was interviewed by her Take Shelter co-star Michael Shannon (TV's Boardwalk Empire), himself a prolific actor in 2011.
Chastain has recently been working on her role in Mamá, a horror film produced by Guillermo del Toro and directed by Andres Muschietti.  To help portray fear convincingly on screen, Chastain admits she had a little help, confessing, "I've done an experiment, and it's working for me. I heard Johnny Depp has an earwig [headphones], and sometimes he listens to music during a scene. So I asked the director if I could wear one for all of my scary scenes and have them play this really terrifying music in my ear. That's how it's gonna be in the scene anyway, right?"  She believes this helps her because she says that in order for the audience to experience emotion the actor must be able to convincingly portray that emotion on screen.  She explains, "I think that with any emotion–fear, love, nervousness–if the actor's feeling it, then the audience feels it. I'm gonna have to be in a place where my heart's beating fast and I have a physical reaction to what I'm feeling… So I do feel if an actor's going through something, the audience feels that, but maybe not in a conscious way."
Shannon asks a question of Chastain that he has been asked himself: does she learn anything from the films that she makes?  While she doesn't say that she learns anything about acting, she tells Shannon that she misses the connections she makes.  She says, "You know, it's recently come into focus for me why I want to be an actor: It's because of the connection I feel to people. I met you [Shannon], a total stranger, and the next day we're husband and wife in this very serious scene in Take Shelter. There is this immediate connection, this intimacy when you're acting because there's no room to be polite or shy… When I leave a film, there's this sadness that I'm not gonna know this person anymore. And then there's also the connection you have when the audience sees it. It's this web that connects people that's really inspiring to me. So it's less about what I learned on a film and more about what I got to experience on the film."