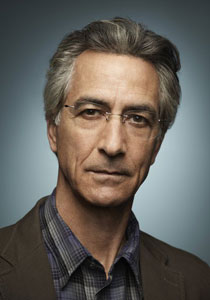 David Strathairn says he loves to act because with each new role he feels he is forever learning something new. "If I'm fortunate enough to get involved in a project that has some pretty good legs under it, people have given thought to it, you're going to learn something."
The actor has tackled parts spanning various genres from Edward R. Murrow to a child abuser. "In theater I've always learned something about the particular world that the play is about – whether it's 1906 outside of Moscow in a Chekhov play, or an Arthur Miller play. Of course, Shakespeare is extraordinary."
Having experienced a spectrum of roles in theater, film and television, and having costarred in such blockbuster's as "The Bourne Ultimatum" and award winning films "L.A. Confidential" and "Temple Grandin," Strathairn has become the "go-to" supporting actor in Hollywood.
"Often I wonder, why am I still doing this?," he says. "Why don't I just go back to my garden and chickens and dogs and family and just hunker down? But there are a lot of questions I haven't answered, and being involved in this discipline keeps me answering them."
Strathairn stars in the Syfy series, "Alphas," which premiers July 11, and he says he was intrigued by the challenge of playing neurologist Dr. Lee Rosen, a scientist in charge of a government project that locates individuals with singular abilities. "It's something I've never explored, developing a character that could have mutations anywhere along the road that would be embraced or not. It's a real wide landscape of character development. Then I really liked what they're trying to do with the series, which is to explore people who have these neurological anomalies that are very plausible."
Despite having such respected bodies of work as "Good Night, and Good Luck," "The Sopranos," "A League of Their Own" and "Brother from Another Planet" on his resume, Strathairn admits he still experiences moments of doubt, "To a certain extent each part I approach I think, 'Am I going to be able to do this?' A lot comes with what you're given the opportunity to do. Sometimes they cast people to get the project financed. I always have that little moment when I think, 'Am I up to this?' I tend to think there has to be a baseline of confidence in order to be an actor. Otherwise it's too scary," he says.
After a moment the actor adds, "You have to have the confidence that you'll be able to hit the nail at least three times out of 10. You've gotta have that kind of confidence."
via The Kansas City Star