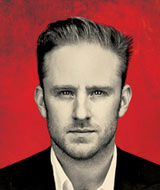 Harry Potter was actually Ben Foster's inspiration for doing a play on Broadway.  Well, technically it was Daniel Radcliffe who gave him the push to do Lyle Kessler's Orphans.
"I talked with Dan Radcliffe when we were doing Kill Your Darlings, and he had done Equus and so many plays, and I have so much respect for him—he's such a brave man—and he was like, 'Oh, you should do a play!'  'Well, I'd really like to, but it scares the shit out of me," Foster recounted in an interview with Vulture.  "You go do something that scares you and don't try to beat it."
The actor had an early connection to the play, but then joined the cast after the controversial firing of Shia LeBeouf.  "They called and asked me to participate in a reading of it months and months ago," Foster recalled.  "I had a few days to look it over, and I went in and read with Alec [Baldwin] and Dan Sullivan, the director.  We just sat around a table, reading the book.  And then it went another direction.  And that was that, and it made me sad.  The bizarre part was months went by, and I was sitting with my mom in LA, and she said, you know, 'It's a really good thing that play didn't work out—I think it would have been too hard on your heart.'  And I said, 'Yeah, I guess you're right.'  And the next day I got a phone call that said, 'Will you come to New York tomorrow and start rehearsing?'  So I said yes.  But my mom's worried."
It makes sense that she's concerned—the role of Treat is that of a dark, domineering brother who decides to kidnap a gangster.  "If I don't feel I need to lay down or sleep for 10,000 years after each performance, I don't feel I've served the show," he admitted.  "Now, once we open and get a few more under our belt, I may be out every goddamn night."
Foster costars alongside Tom Sturridge, who plays his reclusive brother in the show.
"We had an initial kind of glass raise; maybe a few cocktails were involved," the actor said of their bonding experience.  "All in all, he's really the senior here, in terms of theatrical experience—well, both of them are.  I've relied on them heavily in terms of asking questions about rhythm versus impulse of emotion.  By the time I got there, it was just about not sleeping and catching up to these guys."