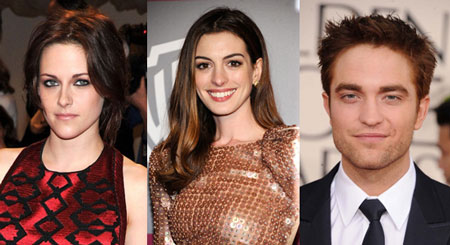 Delivering their annual list of Hollywood's Best Actors for the Buck, Forbes has revealed who came out on top in Tinseltown this year. 
Based on the performers three major releases in the last five years, the news giant named Twilight actress Kristen Stewart at No. 1.  The twenty-one year old actress, who plays Bella Swan in the Stephenie Meyer vampire adaption, earns $55.83 for every $1 she is paid. 
The Princess Diaries star Anne Hathaway came in at No. 2, she averaged a return of $45.67.
Surprisingly Hathaway beat out Robert Pattinson, the other star of Meyer's multi-million dollar story.  Pattinson's additional films outside of the Twilight franchise, as pointed out by Forbes, didn't fare well at the box office, causing the actor to score only $39.43 for every dollar he was paid.  In an unexpected twist, Harry Potter's Daniel Radcliffe came in at No. 4.  The young performer earned $34.24 for every $1 he made.
Last but not least, Transformers leading man Shia LaBeouf came in at No. 5 on the Forbes list.  The actor made $29.40 for every $1 earned.