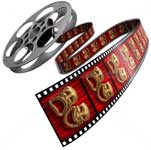 We're back in full swing here on Daily Actor!
After being back on the east coast for almost 3 weeks – I was visiting my parents in Maryland and took a quick trip to NYC – we're back in full-on posting mode. I tried to post as much as I could but you know the drill when you're away, I'm sure.
Here's a handful of things we missed while we were gone:
Kristin Chenoweth and Nathan Lane join CBS' The Good Wife
Chenoweth and Lane have both signed up for recurring role. Lane will appear in the season premiere as "a bottom line-obsessed manager imposed on Lockhart & Gardner by the bank to cut costs and get the firm back to fiscal health. He finds himself at odds with Will, Diane and everyone else at the firm." Chenoweth will play a political reporter who is looking for a scoop on the Pete (Chris Noth's character) and the Florrick campaign.
B.J. Novak to get fewer Office hours
Now that Novak, who plays the office tool Ryan, isn't a writer on the show, he'll only recur this coming season.
Magic Mike headed for Broadway
Synergy peeps! Channing Tatum's stripper-fest, Magic Mike, is currently being adapted for Broadway. Screenwriter Reid Carolin told USA Today, "I'm almost more excited about that than the movie because I think it's the perfect thing for women to go see on Broadway, to be participants in the show."
Smash Producers bringing The Sound of Music to NBC
NBC and Smash producers Craig Zadan and Neil Meron announced that a live broadcast of Rodgers and Hammerstein's The Sound of Music will air on the network sometime in the near future. "All of the actors will be singing live; there will be no lip-synching to recordings," Zadan added. They are casting now. Too bad I'm too old to play Rolf.
Alec Baldwin is coming back to Broadway
Alec Baldwin will return to Broadway next spring in Lyle Kessler's ORPHANS directed by Daniel Sullivan. Baldwin said, "I have dreamed, for a long time, of doing this play with this director.  It's an honor to work with Dan Sullivan in Lyle Kessler's ORPHANS." In the play, two orphaned brothers are living in a decrepit North Philadelphia row house. Treat, the eldest, supports his damaged younger sibling by petty thievery, and makes the house a virtual prison for the seemingly simple-minded Phillip.  One night he kidnaps a rich older man; Harold turns out to have his own motives and becomes the father figure the boys have always yearned for. Baldwin will play the role of Harold; the roles of Treat and Phillips are yet to be cast. It will play at a Shubert Theatre to be announced. 
The Cast of The Mystery of Edwin Drood is Announced