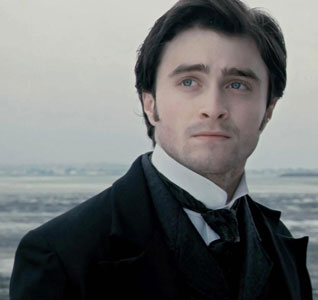 After ten years of playing Harry Potter in nine films, Daniel Radcliffe is ready for new challenges.  After a successful run on Broadway in How to Succeed in Business Without Really Trying, Radcliffe stars in his first post-Potter film, The Woman in Black, a movie from legendary UK studio Hammer Productions. 
Radcliffe stars as Arthur Kipps, a lawyer who is tasked with settling the affairs of a recently deceased woman… but he finds himself entangled in the supernatural affairs of what appears to be a ghost.
Radcliffe admits that though he's grateful for his Harry Potter success, he is ready to show that as an actor he is capable of so much more — which is why he chose to star in The Woman in Black.  He explains, "I'm very, very proud of Potter.  But I now have to prove to people that I'm serious about acting, and I think the way to do that is to select interesting material. This fit that bill – it was a great script and a great story – unsettling and frightening." 
What drew Radcliffe to the role was the opportunity to play a character who was had depth.  He says, "Arthur is so complex but there's a real stillness to him as well.  He's a very interesting character to get a chance to play."  The character's motivation was something that Radcliffe has thought about, and he adds, "Here's this guy who's lost his wife, goes to this house and starts seeing the ghost of a dead woman.  I think the reason he stays there is out of some hidden desire, or instinct, to get some sort of assurance that his wife is in a better place."
Whether fans will accept Radcliffe as anything but Harry Potter is the question Radcliffe has to face, but he's impressively picked a departure that certainly force audiences to see him in a new light as an actor.
The Woman in Black opens in theaters on Friday, February 3