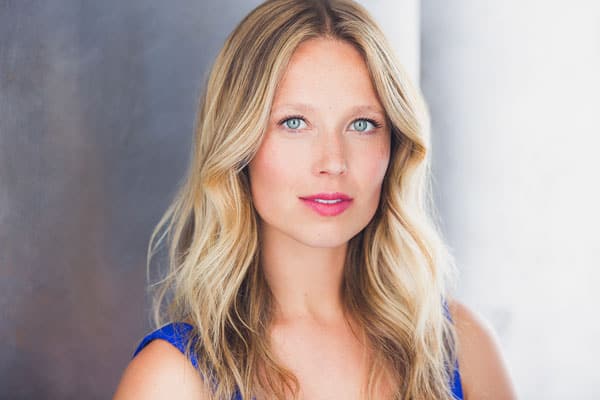 Freya Lund is a British actress who moved to America to pursue her dreams of acting. Her resume includes the horror movie Killer Christmas, the award-winning short, Before I Go, Off- Broadway play, You Love That I'm Not Your Wife and commercials such as Budlight, Kohl's, Tarte and JBL.  I asked Freya some questions and advice for actors planning on taking the leap and moving to New York City.
Train: I think training is so valuable for all actors, whether that be in your home country or coming to a good school in the USA. It is so valuable to an actor to have necessary training if they want longevity in their careers. I would always recommend drama school to everyone and after that try and take as many classes as you can and never stop adding the essential tools to your box. Sportsmen wouldn't stop training so why should we?
Network: I have found, particularly here in the USA, networking and making a good impression is key. So many artists have started creating their own work and they always need actors. Even if you don't hear from somebody for while, who knows in 5 years the person you networked with may become a brilliant director and remembers the talented actor they met and wants to audition you. Also, its important to find other actors who you identify with and who can help you and you can help back. Doing a self-tape is far more enjoyable with another actor right?
Read: I think reading is so important for actors for understanding good material and characters, so read as much as you can. A play a week makes 52 a year, this will not only broaden your knowledge on the classics but also give you a greater understanding of what kind of work you like and would like to be part of. If you don't have much cash, then the performing arts library at the Lincoln Centre is great and has an amazing selection of plays.
Apply Everyday: We have some great platforms in NYC, you don't even have to have an agent to get jobs now. So apply and audition everyday. Backstage, Actors Access, Casting Networks are brilliant places to find work. So make it the first job on your list when you wake up. The more things you apply for, the more auditions you will get, which means the more jobs!
Watch: Watch plays and films as much as you can! Watching live theatre and great films is such a brilliant way to learn. I know New York City can be expensive so try movie pass or cheap Tuesdays for films. Also most theatres offer same day rush tickets from the box office, which are as cheap as $30!!
Study Your Market: If you're moving from a different country or city, understand that things might be different in that city. Your headshots or reel may need to be altered. How they structure auditions might even be different.  Speak to other actors and do research or see if there are seminars and talks you can go to that can give you advice on how to bring your 'A' game.
Live: My final advice is to live! Make friends, get your heart broken, make mistakes and be human. Remember: we are actors and we are storytellers. So, make your life as rich as possible. Don't feel bad for taking days off or hanging out with friends. Surround yourself with people who support you and have your back, because we are in a tough industry!
Written by Silvia Morigi