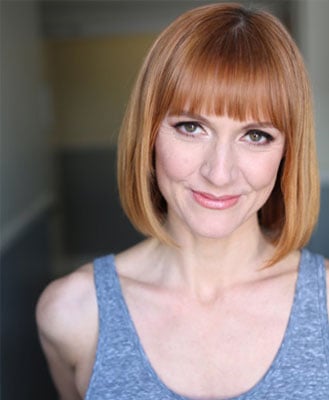 "I couldn't be happier that voice over has become my "thing", and I'm so grateful for the way it has taken off" – Francesca Manzi
When I decided to become an actor and went off to drama school (The Italia Conti Academy of Theatre Arts in London) in pursuit of that big dream, it was all about TV, movies and especially theatre. I'd spent much of my childhood watching plays and musicals, and been bitten by the acting bug at a young age. I dreamed of one day "treading the boards" on the West End stage and following in the footsteps of some of the greats. At the time, drama schools in London often focused on what you'd call "classical training", which dealt with stagecraft, technique, physicality and voice production, and we studied the classic texts – Shakespeare, Chekhov and Beckett, with some modules in screen acting throw in, and the occasional modern text too.
My career began on stage (naturally!) playing Desdemona in Shakespeare's Othello at the famous Edinburgh Fringe Festival. A plethora of other stage roles followed, and some film work too, before I moved to LA to pursue my career. I had developed a love for screen acting, and I imagined lots of TV and movie roles, and days off spent lounging around a pool sipping cocktails, or riding bikes along the beach. "What a life!" I thought.
What I didn't anticipate was that a few years into my time in the US, I would shift focus onto building a career in voice over, and – even more surprising – completely fall in love with it, and find the same passion driving me towards my voice over goals that once propelled me towards stage and screen!
WHY IT'S IMPORTANT TO STAY OPEN AND ALLOW YOUR DREAMS AND PASSIONS TO EVOLVE
I discovered a whole new world – there's so many different areas of voice over and you have to discover where your vocal strengths lie, decide what area(s) you're going to focus on, research which demo producers excel in those areas, and, much like screen acting – who will you study with?!
I had always been good at accents and dialects, and loved animation, so that seemed like a no-brainer. Plus, I loved the idea of getting into the ever-growing video game arena, and felt like there could be a lot of roles there for me. So, I recorded my demos, and had the good fortune to be offered representation with one of the top voice over agencies in the US (Atlas Talent). And so it began!
It took time to book my first job (as I had been warned it would) – 110 auditions, to be precise – but a callback for a series regular role for a huge studio three months into auditioning kept me hopeful, and when the job came, it was a big one, for the video game Halo 5 (though I didn't know it at the time because big projects like that were kept secret & given code names). It was a brilliant experience, and gave me the confidence to continue along the voice over path.
I've since booked lead roles in games like The Unspoken, and have also started working in motion capture and fallen in love with that, too, but that's a whole other post! I've worked on animated series' like Enchantimals for Mattel, and commercial campaigns for shows like South Park, global brands and companies including Comcast (for the Rio Olympics XFinity campaign), Bank of America, Marriott International, MasterCard and Accenture, among others.
I truly love every aspect of working voice over jobs, and, whilst I still work frequently on stage & screen (I'll always love that my first TV role was opposite Malin Akerman and Bradley Whitford in Trophy Wife!), I couldn't be happier that voice over has become my "thing", and I'm so grateful for the way it has taken off. My Oscar dreams have now become my Annie (Animation Awards) dreams – here's hoping!