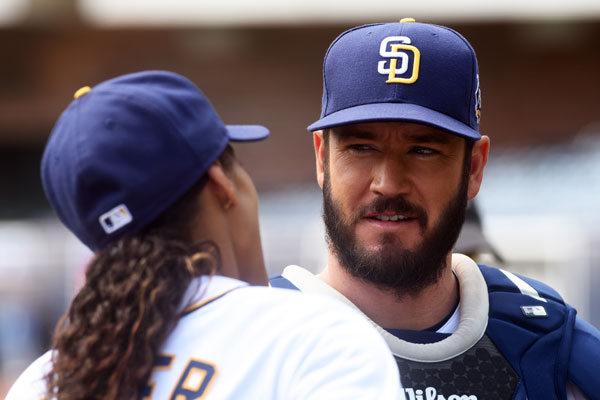 "I started playing it in a certain way and the writers started writing it a certain way to complement what I was doing onscreen." – Mark-Paul Gosselaar on 'Pitch'
Mark-Paul Gosselaar is currently staring in Pitch, Fox's newest TV series following a young woman who becomes the first female to play in the baseball league. Gosselaar plays the part of Mike Lawson, the beefy, ageing catcher for the San Diego Padres. Though he can hardly really be seen as ageing, since his character is 36, but that's entering twilight years for a career in baseball, at least. For Gosselaar, the role of Mike was an intriguing one, tough to play, and one that he really wanted to make his own.
"The character Mike Lawson — it was written a bit different. It wasn't the character that we see on television now. I started playing it in a certain way and the writers started writing it a certain way to complement what I was doing onscreen. But Mike Lawson was more of a playboy, and I don't think they wanted me to be the veteran catcher. I think I was written a little younger possibly. But yeah, sometimes you get on a project and they like what you're doing and they start riding in that direction."
Of course, starring in a TV show about baseball, means there's going to be a lot of baseball being played on screen. For actors, this either means learning the sport- and learning how to be convincing on screen playing it, or using doubles. Gosselaar explains that while using a double was the initial intention, that is no longer the case:
"One of the big things for MLB was to make sure we look as authentic as possible. So they had doubles for us for the pilot and I think there's a few scenes where we actually use a double and since then, since we went into production, Mo [McRae], myself, and Kylie have not used doubles at all. We were training four times a week when we weren't working, for three hours a day, and then while we're working, it's basically any open slot we could get, we were either batting or throwing or catching. So we're constantly either watching baseball, doing baseball, or acting baseball. It's been the most intense, physically taxing job that I've had. The other side, the acting side, is easy, in relation to the physical stuff."
Most people know Gosselaar from his role of Zack Morris in Saved by the Bell; a teen show that pulled in massive audiences across the globe and is still though of fondly by many. It's impossible for Gosselaar to escape this, but then, neither does he want to. Unlike many stars who were catapulted to fame at an early age, Gosselaar and most of his Saved by the Bell co-stars (including Mario Lopez), have gone on to forge successful careers and haven't gone off the rails. Gosselaar says he has his stable family life to thank for it, and also the fact that he didn't view the show as a job at all.
"If you look at the whole of the cast, we all turned out pretty well, and we're all pretty successful in our way. Looking back, I would just say that we had good family backgrounds to rely on. I know that Mario has a great mother and father and Elizabeth has a great mother and father, and same with Tiffani. We've all come from a background that I think was pretty safe and relatively normal. It was a different time. We were actors, but these actors that come up nowadays, I'm in awe of them. I have so much respect for them because they come in knowing exactly what they want to do. They're like, "I'm going to do this," and their work is amazing. And I feel with us, on Saved by the Bell, we were just doing something that was fun and something you can do after school. I didn't think of it as a career until after I'd finished."
via Vulture