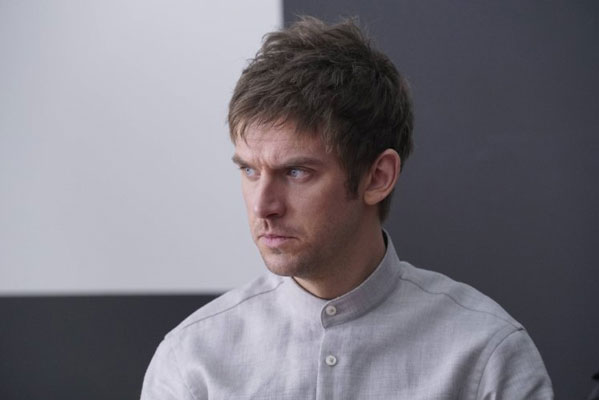 "I always sort of look at filmmaking as an exercise in collective madness" – Dan Stevens
As Matthew Crawley on Downton Abbey, Dan Stevens was the epitome of an English Gentleman, so perhaps it's no surprise that when he left the show, he decided to go for a wide variety of dramatically different roles. From a starring role in the chilling crime thriller, The Guest, to playing Sir Lancelot in Night at the Museum 3, Stevens has ensured he can never be pigeonholed, even if his role on Downton will always be what he's best known for.
That notoriety might well change soon, though. Stevens is set to star opposite Emma Watson in the upcoming Disney live-action version of Beauty and the Beast as The Beast; a role that involves both on screen acting as well as motion capture, and the movie is set to be huge. Not only that, but he is also starring in Legion on FX; a new show from Noah Hawley that is based loosely on Marvel's X-Men Anthology.
Stevens plays David Haller, the main protagonist of the piece, and a man who holds psychic abilities. For all his life thus far, Haller's abilities have been misdiagnosed as schizophrenia. There is no doubt that the character is troubled, and it's easy to see why and how this misdiagnosis has come about, but Stevens' portrayal of David Haller is utterly gripping to watch. It's a hard part to nail; accurately portraying a character that has a mental illness is hard enough, but to then add in the twist of it actually being psychic abilities that make him act this way, it becomes harder still.
"I guess "tightrope" is right, but it's more playful than that, really," Stevens explains to Vulture. "It doesn't feel quite so treacherous. Slacklining, maybe. I was reminded of something that a British theater director, Peter Hall, taught me about playing kings or princes in Shakespeare: It's not so much walking into the set saying, "I am the king" — it's actually how all those around you treat the king. So it kind of comes from how people around David are behaving, if you know what I mean? It's not just that he's not paranoid schizophrenic, it's that there's something else quite special about him, which he doesn't care for particularly. There was one doctor who told me of a patient who, essentially, his issue was that he was the Second Coming of Christ, but very reluctantly. He really didn't want to be dealing with this right now. It was just like, God, I've been asked to do this job and it's just like — I don't have time! I don't want to do this, y'know? That whole idea really stayed with me. I find there are too many superhero stories where someone goes, I have superpowers? Great! That sounds cool, let's roll with that. I liked the idea of innate reluctance."
Legion is perhaps one of those shows that you need to watch to fully appreciate the extent of Stevens abilities, because not only is the characterization on the show very strong, it also delivers that superhero edge that we're all craving from any show even remotely connected to the Marvel name. And yes, that involves CGI, but that was no problem for Stevens, who has now done extensive CGI work, not least on Beauty and the Beast. 
"I've done a fair bit of it recently. I've sort of come to the conclusion that it's actually not different. It's just a bit more imagination. Because even if it's a practical set, [points to the table in front of him]this isn't really that, [tugs his shirt]I'm not really wearing this. So when it's green screen, you just turn the dial up a bit more. I always sort of look at filmmaking as an exercise in collective madness, anyway. It's like, We're all going to get in this room and everybody's going to believe that "x" is going to happen. It's all about imagination really, and sometimes you just use a bit more of it I suppose."
Legion is currently airing on FX