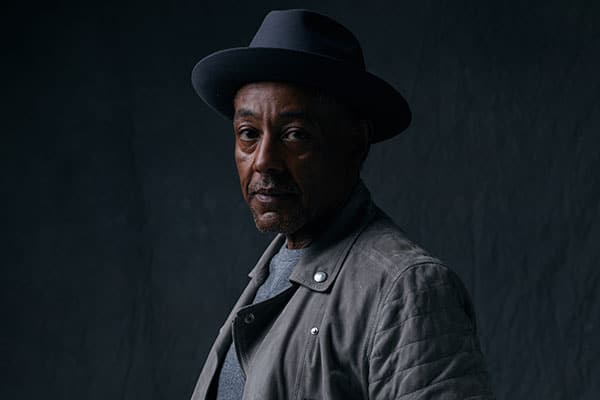 "I get on set, I don't even go into the makeup trailer till I'm dressed. That's been my m.o. for years because I'm a theater actor. So, once I put those clothes on, my whole demeanor and my attitude, everything changes." – Giancarlo Esposito
Giancarlo Esposito recently took his many talents to star in an episode of Shudder's brand new anthology series, Creepshow. The episode, entitled 'Gray Matter' and also starring Tobin Bell, was directed by The Walking Dead's Greg Nicotero, and it turns out, the two have a history together. Nictotero is mad genius responsible for Gus Fring's (Esposito) head explosion in his final episode of Breaking Bad.

At this summer's Comic Con, Esposito talked about how he got involved in the show, how he loved the "guerrilla" style filmmaking of the show and loving his turn in the horror-genre!
What brought you to Creepshow?
Giancarlo Esposito: A phone call from Greg Nicotero. I had worked with Greg back on Breaking Bad. He did my makeup for my final episode in that. And he called me and said, "I'm doing this new show. We'd love to have you come down and play." As soon as he mentioned Stephen King and George Romero and that connection, I have a connection to Steven many years ago, I said "yes" immediately. It is a genre I've never done before. I was a big fan of George Romero not even knowing that Stephen King and he were good friends. So, it was the material that drew me in and the personality of Gregory got me to say yes. I'm so happy. I truly am.
I love pop culture and I know we're here at a pop culture event, but my character in Breaking Bad became iconic and it's wonderful because many people call me Gus on the street wherever I go. For me it's very, very special to have bridged two decades with two different shows. I was nominated seven years ago for Gustavo Fring for Breaking Bad and now I'm nominated for Gustavo Fring for Better Call Saul. So I feel really, really honored to be in that position. It's pretty cool to be in a number of AMC shows and they're a great network and had been really supportive of me, so I'm grateful for that.
How is it going from Better Call Saul to a horror show? How do you make that transition and prepare to change it up like that?
Giancarlo Esposito: Well, for me it's to forget about who I am. You know, when I walk on the set of Better Call Saul, there is a great sense of respect that I get from all the other cast members, directors and producers. And sometimes I just get tired of that respect. "Can you guys treat me like shit? Are you really that afraid of me?" You know, I think it's partly the respect of the time in, but it's also my attitude. So I get on set, I don't even go into the makeup trailer till I'm dressed. That's been my m.o. for years because I'm a theater actor. So once I put those clothes on, my whole demeanor and my attitude, everything changes. Not that I'm mean, I'm just directly to the point and I'm not a frivolous chatter. So people mistake that for being, "Whoa." They become afraid of me and depending on what mood I'm in, rightly so.
So to go to do this, I realized… after I said 'yes' and got there, that this is like guerrilla filmmaking. And to me that means like going back to shoot your college student film. Now you may think that's a negative, but actually it's a real positive because everything's going on at once. And actors always want to be the primary focus of attention. Now when you walk onto a Greg Nicotero set, especially in Creepshow, what gets your attention is the room you're in right away. "How did you do this? Like it's so disgusting and weird and scary and creepy." That, "Oh, that's a star right there." And then you start to do your work and then you meet the other star, the surprise at the end, the monster. And that's such a visceral experience.
So for me as an actor, I dropped all of my pretension, you know? I'm a new guy, I'm a doctor in this small town, who's the best friend of the sheriff who we need to go and help out this dude whose son just came in and said, "Hey, my dad's not doing so well and there's something strange going on." And so all of a sudden, I become more aware. All my Spidey senses come on and I'm trying to figure out how this will be translated and how to get through this particular five days of creating something that's creatively different.
So, I get there and I realize in an anthology series, it's a standalone. You can do whatever you want to do as long as it's within the parameters of what the director and the writer's vision are. Again, did I say that I've never done this genre before? So maybe I just want it to be scared because I scare so many people in my real life and on television? And so finally I went, I want to be scared for once. I want to know how that feels.
We get there, we start rehearsing. I had a great scene partner in Tobin Bell and Adrian Barbeau. Tobin is a real actor like me and he starts breaking down every line of the script. And going, "I don't know if I'd say like this, I don't if I'd say it like that." [laughs] I hate actors like that. I truly do, man. You got to make sense of this shit. I can't make sense of it for you. But Tobin and I got into the trenches and we started to fix things that we felt weren't suited for us. He went away and rewrote some scenes and we wrote some stuff together. Never intending for that dialogue to be in the piece, but intending for that to inform our relationship, which was wonderful. So we did our work.
And then we get to the set and I hadn't taken one thing into consideration: It's Creepshow. You read the story and all that… It's dark dude. It's dark. Dude. "Greg Nicotero, Greg, Greg. Hey. You know I'm a brown skin man, right?" "Yeah, yeah. You calling me racist?" "I said, "No. But, how are you going to like this?" "Oh, Tobin's got a flashlight. His character does."
Tobin said, "I don't know how I got in a flashlight. I can't handle both of these. So maybe I'd give the flashlight to him." I'm like, "Oh yeah, I'd love to have the flashlight."
And so all of a sudden, I had to get out of the whole 'acting head' and figure out how to light us both. In a dark room, tripping over crap, tipping over shit. It was so real, so gooey, so creepy. And with Tobin speaking, shone a light on the white ceiling so it would reflect on his face. When we're speaking together, try to get the light in the right place so we're both lit. It was freeing. It was liberating, not to be in the same place I'd been in any character I played in the last three years.
And this was intriguing to me because I had a vulnerability, yet a sincere caring about the community, which is going to seed. The storm comes in and then we're in hell. And so you have to make the decisions you'd make as the character. And to me it was so freeing to have the challenge of a flashlight, lighting, darkness.
And then I met monster. I got to tell you, I've played bad asses on TV, but this was like so fricking gross, like gross. And it is nothing like I had ever imagined. So, then I got really excited.
When I say guerrilla film-making, I mean that it's done quick, fast in a hurry, and you don't stand on ceremony and you're able to cut to the quick of it. "What are we doing? There's the camera, we're shooting." That's it. And believe me, no hurry up and wait, which is what we do in our business. That's what I want as an actor. "You're ready. I'm ready. Let's go."
And I'd had a blast. I gotta tell you I had a blast. It's so great to do something that's very different out of the ordinary, spontaneous and something that you don't expect.
Creepshow is now streaming on Shudder