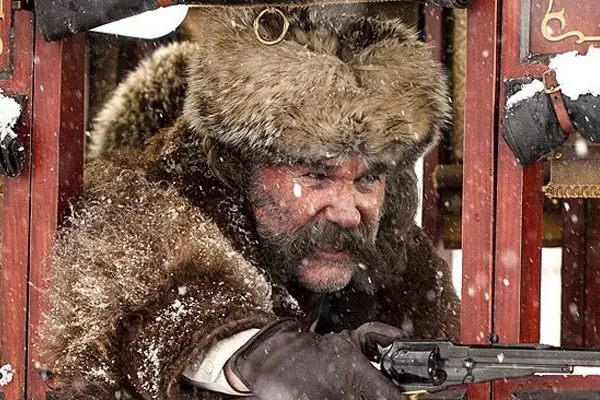 Many actors can work on a project and never see it come to life. That's the sad reality of this business, so when they do finally see it on the big screen – all their hard work was worth it, and they are soon relieved. The Hateful Eight's Kurt Russell recently sat down with The Daily Beast to talk not only about the hours he put into the movie, but what it was like to constantly have to hit his co-star Jennifer Jason Leigh.
Director Quentin Tarantino didn't just have his actors walk onto a Hollywood set and then head back to their hotel rooms. Russell said, "You know, we did work hard and this one had become a long process. There was a read-through, a long rehearsal period, and then you do the thing, and you're in a pretty interesting condition when you're shooting at 10,000 feet in Colorado, and then you come home to L.A. and they freeze the set. So you have this great time with the cast, and Jen and I were talking about this the other day, at some point it unfortunately has to be released. You have to let it go. And this one was unique."
With some Oscar buzz surrounding the film, no one is more deserving of a nomination than Leigh. Russell is on her non-stop, always quick to lay his hand across her face. While he never hit her in real life, it was all a job at the end of the day. He said, "First of all, I didn't really have a problem with it because the character has clearly set up the rules for her, and if you step outside those rules, he's going to slap you on the wrist or elbow you in the nose. So for him, I didn't have a problem with it. But what you don't see is the Fred and Ginger of it all—the we need to work this out. I had to be able to do this to [Jen] at any beck and call, and [Jen] needs to be so comfortable that she needs to just react and trust that I'm not going to hit her. Then, she'll be able to relax and we can dance around. We had a lot of fun and she's just great. And Daisy's a button-pusher, man."
All that hard work paid off because Russell, while menacing at times, is quite the lovable character in The Hateful Eight, out now.