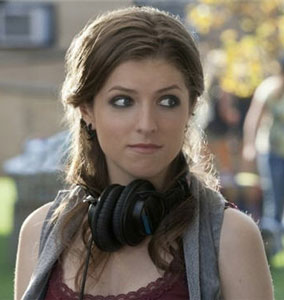 Anna Kendrick started out in the world of musical theater, so it made sense for the Oscar-nominated actress to return to her roots in Pitch Perfect.
"I wasn't looking for this, and in fact I remember reading the script and the thing that made me nervous was the musical aspect," Kendrick told Movieline.  "It was almost like I wish Kay Cannon could rewrite the script replacing the a cappella with a chess club because I was worried about it being corny.  But I fell in love with the script so much because it was so smart and funny and surprising.  I was so charmed by it, I was like, ''Okay—guess I'm singing in a movie!"
This isn't the first time Kendrick has shown off her vocal chops onscreen.  The actress made her film debut singing in the cult favorite movie, Camp.  But she still had to audition for director Jason Moore.  Kendrick recalled, "I met Jason like two years ago about it and they did ask me to sing, so I sang that song with the cups [from the film]that I learned from a YouTube video, and they were like, 'Oh my god, that's going in the movie!'"
Kendrick decided to audition with the piece since "I had just learned it because I'm aggressively dorky," she said.  "When they asked me to sing I was like, as it happened, here's something I wasted an afternoon learning, so I might as well show them."
After her Oscar nomination for Up in the Air, Kendrick was worried about typecasting.  "I think right after Up in the Air everyone wanted me to play the girl from Up in the Air, and it took a little while for people to think of me as an actress from a film that they liked instead of just that character," she noted.  "So it was weird, a little bit of time had to pass before people like [End of Watch director] David Ayer began thinking of me as the kind of softer, sexier wife character or in this, a kind of rebellious tattooed character.  So I'm definitely grateful that those opportunities are coming along."
Pitch Perfect opens in wide release Friday.