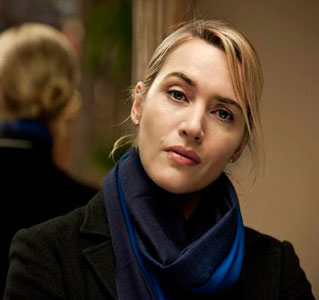 Kate Winslet is no stranger to playing difficult roles or dealing with demanding directors.  In Carnage, the film adaptation of the Tony-award winning play God of Carnage, Winslet came across both.
Director Roman Polanski is sometimes better known for his personal dramas (fleeing the country in the 70s after facing statutory rape charges), but his acute skills resulted in many challenges for Winslet.
In an interview with Wall Street Journal, Winslet recalls, "I think at various different points we all had said to Roman, 'Look, would you like us to learn [the script]?'  Because it is based on a play and when it's Roman Polanski, one wants to be as prepared as possible.  And he categorically said, 'Oh no, no no'—very blasé—'no need to learn it….' And by Friday afternoon of week one, Roman said, 'Ok, I think it would be really handy not to have our scripts in our hands on Monday, don't you?'  And there was deathly silence, and I could see everyone sort of looking at each other like, 'Well, what did you have planned for the weekend?'"
Although Winslet had never worked with Polanski, she came into the project prepared.  "I actually just laughed my head off because even though we'd only really known Roman a week, I could tell this seemed to be a very typically Roman thing to do, like suddenly come out with some grand thing like, 'Go away and learn 110 pages of script in two days.'"
So Winslet and her costars—Jodie Foster (Silence of the Lambs, Panic Room), Cristoph Waltz (Inglorious Basterds) and John C. Reilly (Chicago, Step Brothers)—memorized the script and came in ready.  The cast had two weeks of rehearsal—something most shooting schedules do not allow.
Winslet says, "Some directors don't like rehearsal.  I don't ordinarily like pre-planning things or blocking things.  But sometimes things can really be revealed to you as an actor about your character that come out of an idea or a question that another actor has, and that's fun.  I would happily rehearse for three days and never stand up out of a chair, just to be in a room with everybody."
Winslet was able to fight for some rehearsal time on the miniseries Mildred Pierce, for which she won an Emmy and is nominated at the upcoming Golden Globes.  But previously, she was used to preparing for roles on her own.  "If directors don't want to rehearse, you as an actor go home, you do your homework, you do your own rehearsal and you figure it out, it's fine.  I'm used to doing that."
The other challenge facing the cast of Carnage was overcoming the already celebrated performances of the actors who performed the play on Broadway (Winslet's role was originated by Hope Davis.)  Winslet says, "You can't try and top it.  When it's on stage everything has to be bigger because it's theater, that's how you get the laughs, so in a way I feel like those actors probably felt incredibly liberated.  They were glorious, big and subtle performances.  What the f—do I know, but I thought they were all absolutely amazing and obviously you can't do that on film."
But Winslet knew she would have to set aside what Davis had done with the role, and make it her own.  Because of the constrictions of film, Winslet worked to make the character different, otherwise the result would have "been too in-your-face, too over-the-top and not believable.  So what I tried to do was play my version of the character.  No actor wants to play someone else's performance."
Looks like critics are liking Winslet's interpretation—she was just nominated for a Golden Globe for the performance and is rumored to be a front-runner in the Oscar race.