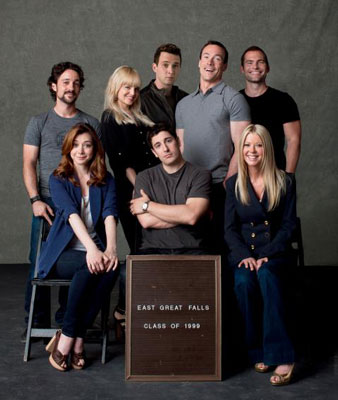 Though there are certainly many fans of the American Pie series of movies who are eagerly anticipating the film series' upcoming sequel American Reunion, the cast of the series collectively haven't exactly lit the box office on fire outside of the series. 
So it's mildly interesting that The Hollywood Reporter has released the rumored salaries of the main stars because, well, frankly, some of them are getting paid a lot more than others.
Take Jason Biggs and Seann William Scott, for instance who are both taking home $5 million and a cut of the gross.  The two actors are obviously the stars of the films, but neither has had much success outside the series (although Scott has had a steady career in R-rated comedies like Role Models and voice acting in the Ice Age movies). 
Surprisingly, Alyson Hannigan, who has since become a star on TV's How I Met Your Mother, is receiving $3 million, as is veteran supporting actor Eugene Levy, who is the only person has appeared in all the American Pie movies — including all four direct-to-DVD spin-offs.   Most of the rest of the East Great Falls High School gang — Chris Klein, Eddie Kaye Thomas, Thomas Ian Nicholas, Natasha Lyonne, Jennifer Coolidge, Mena Suvari and Shannon Elizabeth — all of whom (with the exception of Coolidge, who like Eugene Levy has had a regular career as a comedic supporting actor) have had varying degrees of limited success outside the series — are making between $750,000 to $500,000 for appearing in the film.  No word on what John Cho, who might be more successful than anyone else appearing in the film due to his appearances in the Harold & Kumar movies and Star Trek (and who would've guessed that?) is pulling in.
Tara Reid, however, is getting a slightly smaller cut: $250,000.  No word what she's being paid for the Big Lebowski sequel that apparently only she knows about.