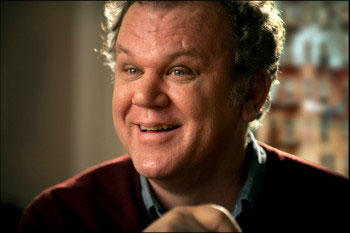 "Academy Award Nominee John C. Reilly." 
Don't forget that accolade next time you watch Reilly goofing off with Will Ferrell in a Funny or Die video.  Since Reilly is better known these days for his hysterical roles in comedies it's often easy easy to forget that he's earned critical success as a dramatic actor — in fact, of the four films Reilly appeared in that were released in 2011, three of them are dramas. 
One of them is Carnage, the Roman Polanski-directed adaptation of the play God of Carnage.  Reilly tells Interview magazine that even though it's a little uncomfortable to get acclimated with a dramatic director and cast, his commitment to his roles never wavers.
Reilly didn't need much convincing to work with Polanski, though Reilly recalls that he didn't hear directly from the fugitive director, saying, "I got a call, 'Roman Polanski wants you to come to Paris for eight weeks and make a movie.' [laughs] It was pretty shocking. I didn't even know it was in the works—I was the last one called. I felt like the kid in Willy Wonka—"I have the last golden ticket!"—I got the shot."  Despite his vast experience in a variety of roles, Reilly admits he's always learning more on sets — even if they are a bit awkward because the cast doesn't usually know each other.  He confesses, "An actor's life is like a series of—it's like the first day of school happening over and over again. [laughs] You go into these situations—and you have this reputation, and people are generally very nice to you—but when you get there, strangers are strangers, they don't know anybody. It was pretty intense."  As a result, the production spent some time having the characters work together to create a level of comfort, explaining, "We rehearsed for about two weeks; the first week was mostly talking about the translation, that kind of thing. The second week we started getting on our feet—by the end of it, we were standing up running through the whole thing."
So how does Reilly manage to shift from working on Funny or Die and acting in a drama with Christoph Waltz, Jodie Forster, and Kate Winslet?  "You just try to tell the truth as much as you can. If the circumstances are ridiculous, you're in a comedy. I'm not someone who—I've worked with comedic actors, like Will [Ferrell], who seems to be able to take the straightest thing and just sprinkle some funny dust on it and it becomes the funniest thing you've ever heard. I'm much more character based. I try to just be really committed to what I'm doing. Like I said, if I'm committed to something really stupid, then I'm in a comedy. [laughs]"
Carnage is now playing in limited release.