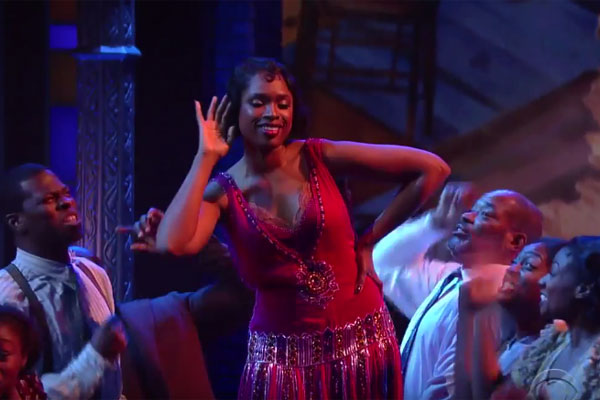 "I'm always excited to see what I'm going to learn onstage with a different crowd." – Jennifer Hudson

It isn't often that a revival of a Broadway musical comes so soon after the original closes, but  The Color Purple, which opens tonight on Broadway at the Bernard B. Jacobs Theatre, has some extra star power this time around. Oscar and Grammy winner Jennifer Hudson stars in the revival, which follows the original Broadway production that ran from December 2005 to February 2008. In a candid interview with the New York Times, Hudson speaks about making her Broadway debut as an unexpected character and why starring in Spike Lee's Chi-Raq was "the hardest thing" she has ever done.
As a fan of the musical, Hudson unsurprisingly agreed to join the revival, recalling that she responded, "I said: 'Sure. Yes. Great. Got it. Yup." But Hudson was surprised that she was asked to portray sexy nightclub singer Shug Avery. She explains, "I had never imagined myself as Shug. [I think of myself as] the big girl with the big voice and the big personality… But I was like, 'O.K., I think I got a bit of Shug Avery in me.'" On the sexual aspect of the character, Hudson says "it's time to show that side" of herself, adding, "That's where the surprise of Jennifer as Shug comes in. People might be taken aback just as I'm taken aback." However, playing Shug ended up being a welcome change for Hudson, who is used to playing much darker characters like in Spike Lee's latest film Chi-Raq, an adaptation of Aristophanes' Lysistrata set in the violent streets of modern Chicago. She says, "Everything else is normally kind of heavy and sad or emotional, and I think it's a light character for me."
In fact, Hudson reveals that she butted heads with Lee on the set of Chi-Raq because of her personal connection to the material (in 2008, Hudson's mother, brother, and nephew were murdered in Chicago by her ex-brother-in-law). She recalls telling Lee, "It's my life. I don't need to rehearse that. I'm not going to continue to send myself through this over and over again. When y'all are ready, then call me." She adds that Chi-Raq was "the hardest thing I've ever done, and I don't think I will ever do it again.
Of course, Hudson understands that with her name on the marquee she is coming in with high expectations for a Broadway debut. She points out that when she first met with the show's director, John Doyle, she said, "I just want to get this right. It's like, I'm here, just teach me what I need to know." Hudson had to learn a lot, especially since Doyle's production of The Color Purple is far more simplistic than the previous one to run on Broadway. Hudson elaborates, "When your only props are chairs and baskets, you have to be ready to put your heart on the line, your emotion on the line. There's no room for anything else."
For a concert performer, Hudson is used to working with a live crowd — though performing in front of a Broadway audience is something very different. She says, "They bring something different every day. That's why I love it. I'm always excited to see what I'm going to learn onstage with a different crowd." Later, she adds, "I find myself anxious and excited, waiting for the next day, the next show."