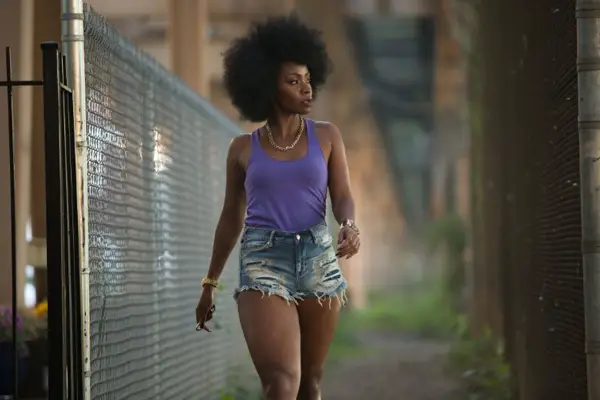 I remember seeing Lysistrata Jones on Broadway. The show was an adaptation of Aristophanes' Lysistrata, and except for its star Patti Murin, it was a huge bore. Now Spike Lee has given us his take on of the classic Greek tale and it's anything but boring. It's uneven at times, yes, but it's also funny, shocking and incredibly current.
In Aristophanes' original story, Lysistrata makes a plan gathering all of the women of Greece to withhold sex until their warrior husbands agree to a peace treaty. Lee updates this story and sets it amid terrible gang violence in Chicago. When a child is killed by a stray bullet, Lysistrata (Teyonah Parris) knows that something must be done to stop this home grown war between the Spartans, led by her rapper boyfriend Chi-Raq, (Nick Cannon) and their rivals, the Trojans. She calls for a meeting with the women of the Spartans and Trojans and persuades them to agree to a 'no sex' pledge with their men until the fighting stops. The women eventually take over an armory and gain everyone's attention, including the military and the President.
The dialogue is told mostly in rhyme and that's where most of the unevenness happens – sometimes it's there and other times, it isn't. Once you get used to it and used to the flow, it stops. I'd imagine it's hard to write a full screenplay in verse but the stops and starts are a distraction. That being said, the effect is put incredibly to good use. Verse is modern day rap essentially and with a combination of Lee's and Kevin Willmott's screenplay and the actors, it's incredibly funny, shocking and real.
Samuel L. Jackson plays Dolmedes, the narrator of the film; foul-mouthed and telling it like it is, he shows up at all the right times in the story to keep us on our game. Cannon is terrific as Chi-Raq. If you've ever watched America's Got Talent, you know that Cannon's a born-again showman but seeing what he's done here, he could ditch that show and make a serious move to A-list actor. Parris, who you might remember as Dawn from Mad Men, is equally terrific. Most of the film rests on her shoulders and she does a fantastic job with it.
The film is anything but subtle. It takes a baseball bat and hits you upside the head with what is happening in the city. There's no sugar-coating here and perhaps that's a good thing. These days, we need someone to ram some truths down our collective throats and if Spike Lee wants to be the guy to do it, then I say, "Yes, please."