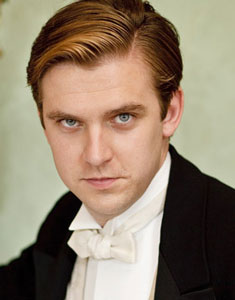 The sophomore season of PBS' Downton Abbey is now under way with the cast successfully engaging fans once again, even after a slew of early negative reviews hit the web.
The time period series' most appealing characteristics comes from it's believable jump back in time, as well as Abbey's interesting set, and of course plenty of amazing actors such as actor Dan Stevens, who plays Matthew Crawley.
For the unknown, Stevens' alter ego is an attractive lawyer who ends up the designated heir of the late Hugh Bonneville's country estate.  His wet t-shirt scenes while chopping wood, enough to make the most poised and proper of fans blush, was also a plus for the breakout star, who didn't imagine himself ever playing a hero.
The twenty-nine year old shared in an interview with The Columbus Dispatch that "it's fun to play that, but I never saw myself like that. It makes me smile."  Admitting that he still sees himself "as a gangly 17-year-old, trying to work everything out."
With a desire to act from an early age, Stevens spoke about writing a letter in his younger years to the National Theare in the hopes of becoming a performer.  "I knew there was this group of actors, but I didn't know how you became one.  I precociously wrote a letter to the National Theatre when I was 14: 'Dear National Theatre, I'd like to be an actor.' They sweetly wrote back, suggesting that I try the National Youth Theatre. It auditions thousands of kids between the ages of 15 and 21."  After auditioning Stevens was then accepted.
Later on in life, Stevens would find himself among  British director Sir Peter Hall.  After performing opposite Hall's daughter in a school production, the actor says he became somewhat of a pupil with Hall as his teacher.   "He gave me my first theater job out of university.  I didn't study acting — I learned on the job by watching. He gave me what I consider my classical training. I did Shakespeare and Noel Coward with him and learned about speaking."