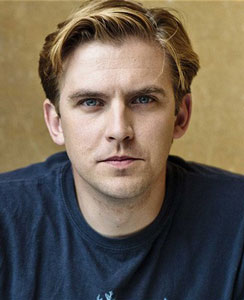 Dan Stevens, star of the Golden Globe-winning series Downton Abbey, will play the role of "Morris Townsend" opposite Academy Award® nominee Jessica Chastain and Academy Award® nominee and Emmy® Award winner David Strathairn in the Tony Award®-winning play The Heiress.
"I couldn't ask for a more exciting Broadway debut: to work on such a fascinating play, with such fantastic actors as Jessica Chastain and David Strathairn and one of Broadway's great directors, Moisés Kaufman," said Stevens. "I can't wait to get started."
Stevens is currently shooting season three of Downton Abbey. On stage, his credits include the lead role of "Septimus Hodge" in David Leveaux's hit West End production of Tom Stoppard's Arcadia, and the "Doctor" in Tom Stoppard and André Previn's Every Good Boy Deserves Favour at the National Theatre.
He has worked frequently with Sir Peter Hall on productions including The Vortex (West End), Hay Fever (Haymarket Theatre), Much Ado About Nothing and As You Like It which earned him an Ian Charleson Award nomination which is the British theatrical award to reward the best classical stage performances in Britain by actors aged under 30. 
Upcoming films include British independent Summer in February in which he stars alongside Dominic Cooper and Emily Browning and which he also executive-produced and Amy Heckerling's Vamps with Alicia Silverstone, Krysten Ritter and Sigourney Weaver (due out in Autumn 2012).
Written by Ruth Goetz & Augustus Goetz, The Heiress will be directed by Tony Award® nominated playwright and director Moisés Kaufman. Performances will begin October 2012 at a theatre to be announced.