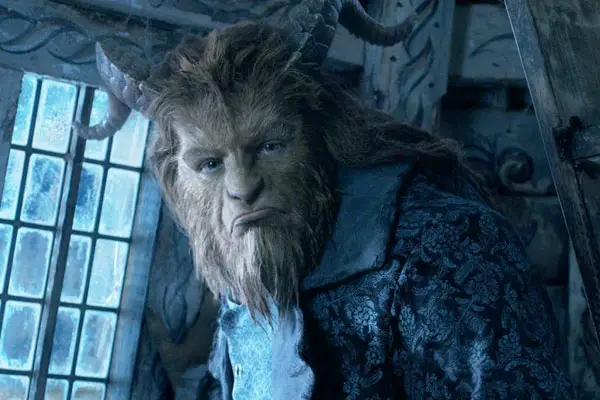 Disney's live-action Beauty and the Beast is an ambitious project from the start; how do you take a much-loved animated classic and recreate it in live-action form, while at the same time managing to introduce new aspects and new concepts to keep a modern day audience interested? Not only that, but the complexities that come with bringing enchanted household objects and a beast to life on the big screen also presents a challenge.
The live action remake, which is also starring Emma Watson, Luke Evans and Josh Gad, promises to be an intriguing movie, if nothing else. Bringing the classic tale, along with its original score, to life with an A-list cast, director Bill Condon has also introduced new songs, from original composer Alan Menken and lyricist Tim Rice, as well as expanding upon character's backstories and introducing new characters, too.
For Dan Stevens, who plays the Beast, his role also presented its own unique set of challenges for the actor, who had to reenact his scenes multiple times in order that the motion capture could be as realistic as possible. Not only that, but the Beast is Stevens' first singing role; a daunting prospect when it's for such an iconic movie, and singing such an iconic score. As part of the movie, Stevens gets to sing one of Menken's new songs, 'Evermore,' but for his audition, he sang a different number.
"I sang the Beast's song from the Broadway show, cuz at that point "Evermore" hadn't been written. Alan [Menken] knew that they were gonna write a new song for the Beast, but he hadn't finished it at that stage, so yeah, I sang that."
Though Stevens has done musicals before, he very quickly moved away from musicals and into plays instead, ultimately graduating to TV and film. Now he's back to musicals, Stevens admits it's given him the bug to possibly do more in the future, since he's reminded of how much he loves singing and dancing.
"That's not to say I wasn't insanely nervous. I definitely was, but I had months of training, and I got to work with an incredible voice coach from the Royal Academy of Music in London, Anne-Marie Speed, who has an amazing … she uses an amazing vocal technique called the Estill [Method], which really connects you with the muscularity of your voice. It's difficult to visualize sometimes what's going in our insides, you know, and to have the same kind of control over that as you would your external musculature. So that was a revelation to me, to see how I could connect with my voice and the things that I could do that I never dreamed I could do with my voice."
To recreate the Beast, Stevens performed all of his scenes opposite Watson's Belle, while wearing a muscle suit and stilts, so that his frame could be captured effectively. Then, it was onto the motion capture of his face, meaning all of those scenes had to be played out again, this time with cameras capturing all of his facial expressions so that they could then be applied to the Beast.
"I was wearing about a 40 pound muscle suit on set, and the muscle suit was covered in gray lycra so to give me the silhouette of the Beast, that they could then hang the digital … well they made real costumes of the Beast that they then digitized and hung on my digital frame. I was on the stilts puppeteering this muscle suit every day and then the facial capture was done separately so every two weeks I'd go into a booth, have my face sprayed with UV paint, about 10,000 dots, and 27 little cameras on the UV flickering light would capture everything that we'd done in the previous two weeks. And Emma [Watson] would be there again, sitting on the other side of this cage and we'd play all of those scenes again and anything that I'd been doing, whether it was eating, sleeping, roaring, waltzing, I did again with my face, and they took that data, morphed it into the Beast's face and mapped it onto the body that I puppeteered on the set. So in a sense, it's every millimeter of my face is driving that digital mask of the Beast."
The results are quite mind blowing; though you know the Beast is not real, as an audience member that is very quickly forgotten and it's easy to empathize with and root for, this poor, tortured soul. Stevens has done an admirable job all round; especially with his vocal performance, and it's easy to see how he landed the part. Disney's Beauty and the Beast looks set to enchant a whole new generation.
Via The Playlist