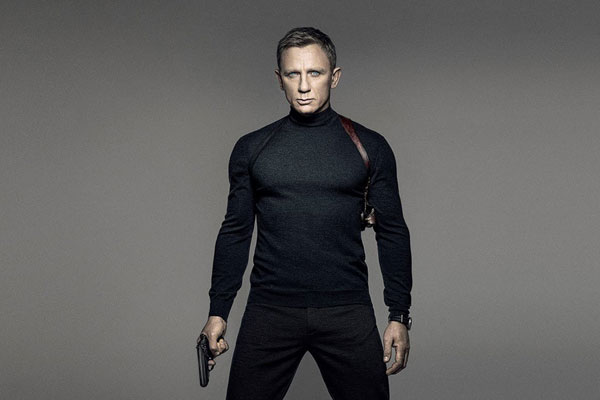 British actor Daniel Craig covers all the bases in a recent interview with Time Out London.  The long time performer, who has a series of highly anticipated movies enter the box office this year, discussed everything from his upcoming role in David Fincher's adaption of The Girl with the Dragon Tattoo, as well his attachment to the James Bond franchise, landing work before his studies ended at the conservatory Guildhall, and looking good for the camera.
In one of the most talked about film projects of this year, The Girl with the Dragon Tattoo, Craig stars as a Swedish Journalist, Mikael Blomkvist, who pairs up with a very unique computer hacker by the name of Lisbeth Salander.
Talking about the cast, the forty-three year old English native discussed his accent in the Fincher helmed production, or the lack thereof.  "Some people in the film have accents and some don't. I don't. I had a long conversation with David about it and said that a lot of Scandinavians speak English perfectly. I'm one of those guys. We've got Danish people, Swedish people, English people, American people. The only thing that matters, as far as I'm concerned, is that no one sounds American. We sound as European as possible. We're all speaking one common language and that happens to be English. I didn't want an accent to get in the way, and for me it would. Salander has no formal education and she has a street accent, it's quite specific."
Touching on his role as James Bond, Craig says that facing his fear and rationality eventually made him take the leap, accepting the offer to play such a well known character that could have ultimately changed the path of  his acting career.  "I weighed everything up and the only reason not to do it was fear. The fear of losing everything else. And you can't not do something because you're afraid. Well, you can, jumping off cliffs and things like that, but to be afraid of losing something because I was going to play James Bond is kind of nonsense. That's how I convinced myself. I thought: Even if it goes wrong, hopefully I'll earn enough money to live on an island when I'm old and get a leathery brown tan! And drink cocktails in the afternoon. Which sounds quite good to tell the truth."
Bond, he explains, was also his big debut for American audiences, since most of his work had been in British motion pictures.  "I went to audition for a lot of bad guys in American movies and was sick of going on tape to play the villain in this and that film…and then losing out to f—ing… no, I'd better not say who!"  Throwing the interviewer of Time out London, "I think the 'f—ing' bit scuppered that answer", Craig adds with a laugh,  "yes!  Let's just say "the usual suspects". So, apart from those films, luckily I was able to do really interesting English and European films."
Jumping back to the beginning of his career, Craig spoke a little about his film roles that he took on while still studying drama at Guildhall.  "In my third year I went up for a bad guy in an American movie. A South African. And I got it. I went to do this movie in South Africa and Zimbabwe and I just lost it, I forgot how to act. Everybody was saying, "Oh , you're so intense, you're so intense." [Does his best 'intense' impression  and bursts out laughing] I was shit-scared! I'd forgotten how to act! It wasn't until doing the TV series Our Friends in the North  in 1996 that I remembered what it was about. Doing that for a year changed everything. I remembered what I loved about acting.  All the old hands were like, "F—ing relax, just enjoy it." Literally, until that point, I was like a rabbit caught in the headlights. "Oh, you're so intense! So angry!"
While Craig does crack a few jokes here and there, the Cowboys and Aliens star can also make a joke about himself about what he calls "modelling."  "Me and my very close friend call it "modelling". I don't find myself particularly good at it. But you find yourself having to model sometimes in movies. It's kind of that. [He does a Blue Steel impression, tipping his chin, giving it the stare.] Some people are really good at it. And then you watch it and you go, "Oh, that's f—ing modelling, what are you doing?" But it is part of movie-making. That's what I like about David Fincher, too. He's got an eye for that. He might say, "Tip your chin," and you know he's looking at an angle, he's looking at the lighting. I love that. If you're too aware of yourself I think it goes wrong, I really do. As long as my ears don't stick out too much, I'm happy."
"The greatest asset to an actor is their ego, but it's also their greatest enemy. The ego gives you the balls to get up there and do it, but it's also the thing that scuppers you because you've got to act, you've got to communicate, you've got to think about what the other person's thinking, not whether you look good."
Daniel Craig will show up in The Girl with the Dragon Tattoo December 21st, 2011.