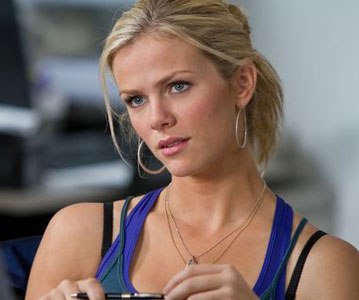 While former Sports Illustrated Swimsuit Issue model, Brooklyn Decker was a natural for the role of a drop-dead gorgeous girlfriend in Just Go With It and in lighter fare like the upcoming What to Expect When You're Expecting, Decker took on a much tougher role in the action movie Battleship.
In a conversation with Access Hollywood at the American premiere for the movie, Decker admits that during the audition process it seemed unlikely that she would land the role.
She reveals, "[I auditioned] five times.  On the fifth time, I actually met [director]Peter Berg and the whole time they're like, 'You're not tough enough. We don't think you're tough enough to do this role.'"  She continues, "So they kept bringing me back, and I'm like, 'This is torture to keep coming back.'  Then finally the fifth time, Pete made sure that I was tough enough, and he did and I got the role."
Another newcomer in the film is pop star Rhianna, who Decker bonded with on set.  She says, "Pete was really big on both Rihanna and I being very deconstructed.  You usually see us like this — we're dressed up, we have people work on us for hours. But [Pete] was like, 'No, I want you guys with no makeup, covered in dirt, doing stunts, doing fight scenes.' So, both of us had to train really hard. It was a blast."
Decker doesn't have any action roles lined up yet after Battleship, but it'll be interesting to see if she'll stick with varying her roles like fellow former model Charlize Theron.  She definitely gets credit for trying to diversify, though!