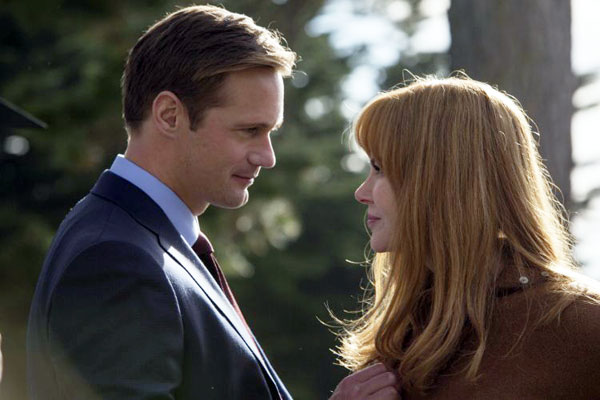 The HBO miniseries Big Little Lies not only boasts a top-level cast — including Reese Witherspoon, Nicole Kidman, Shailene Woodley, Adam Scott, Laura Dern, and Alexander Skarsgard — and is also directed by Jean-Marc Vallée, but it also tells a thrilling story about a murder in a coastal California town and how it involves the lives of several women. The show's most vicious character is Perry, played by Skarsgard. Perry is the abusive husband of Celeste, portrayed by Nicole Kidman. Speaking with The Hollywood Reporter, Skarsgard talked about how difficult it was to film the abuse scenes and why it is so important that he gained the trust of his co-star for those challenging scenes.
Not surprisingly, Skarsgard says the abuse scenes were very difficult to portray. He explains:
They were really tough to shoot. Jean-Marc works in a way where it's more like shooting a play than shooting a movie. It's not traditional filmmaking in the sense where you have the master and two-shot and then you move in for coverage. There are no tape marks on the floor. It's all existing lights and a handheld camera that roams around which is a great opportunity as an actor to explore this space and play around and find new things. One take can be very different from the previous. That really helped those scenes.

Nicole and I got to know each other really well before we started the project and spent time together and worked on our relationship. We just got to know each other. We both felt it was very important that when we step into that room and shoot those scenes, you have to get to a place of 100 percent trust. The scenes were emotionally and physically so draining. They're incredibly hard to shoot. It was more about getting to know each other and spending time together and working on that trust. And talking about their relationship and figuring out the nice part about these characters and how they connect and why they fell in love, what's holding them together. We wanted to find that. We played the whole scene from beginning to end. We weren't restricted by any tape marks on the floor or any technical issues. It was very primal in a way and some of the toughest scenes I've ever had to shoot. It was completely emotionally draining.
Part of finding that level of trust with his co-star was constant communication to ensure both were comfortable with acting out the difficult scenes. However, getting to know each other personally also made the scenes difficult, too. Skarsgard continues:
It was important every day after shooting a scene like that to check in with each other and make sure that we would reconnect and talk about how we felt about it and what we went through. We both knew that jumping in your car and going home after a scene like that is very tough. You need to share that connection with the person you just went through that with. I had the best partner in the world with Nicole in doing that. She's not only an extraordinary actress, but such a warm and generous person. That made it be even more difficult.