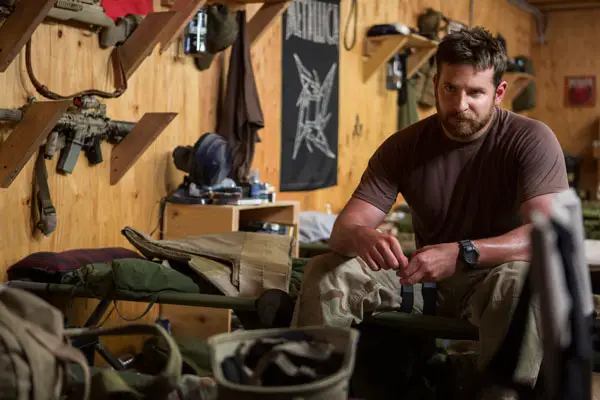 "I had to get to the point where I believed I was him" – Bradley Cooper
American Sniper continues to heat up the box office as well as Bradley Cooper's already hot career. To play the role of Navy SEAL Chris Kyle, the actor had to bulk up quite a bit to make his portrayal believable.
"I had to get to the point where I believed I was him," Cooper says. "At 185 pounds, it would've been a joke. His size was such a part of who he was."
"Chris wasn't ripped," he says. "He wasn't sinewy. He was just a bear."
To help him transform his body, the three-time Academy Award nominee used trainer Jason Walsh to get it all done in 10 weeks, "with the least amount of damage to my body," he explains.
Walsh had been referred to him by John Krasinski after The Office star used him to get ripped for an upcoming comedy, also starring Cooper. The athlete had Cooper training twice a day with a 5 a.m. workout doing deadlifts and squats. The late afternoon workout focused in on muscle-building exercises.
The results took the Silver Linings Playbook actor from 185 to 225 pounds.
The food that went into transforming Cooper was tremendous. He ate thousands of calories a day in addition to five meals plus snacks for additional carbs and protein.
"It was a real shock to my body. If it's pizza and cake, that's one thing. Putting 6,000 calories a day in your body gets old quick," he says.
The new muscle weight on his body was an eye-opener for Cooper.
"It changes absolutely everything," he says. "It changes the way you walk, the way people relate to you. If someone bumps into you on the sidewalk, they kind of ricochet off. You go to a party and everyone's dancing, you're not being moved by anybody."
His wardrobe also underwent a transformation from regular pants to pants with an elastic waist.
"Even my hands got bigger," he says. "I wear my father's wedding ring, and I couldn't wear that anymore. It wouldn't fit."
While Cooper is now down to his regular 185 pounds, the last 15 to 20 pounds were a challenge to lose. However, it was worth it to him.
"I knew this was going to be the way in to playing Chris, and it felt amazing," he says. "It's also nice to know it's possible to do it naturally, in that amount of time."
Don't expect him to return that type of training any time soon. When asked if he wanted to do it again, he replied, "Absolutely not!"
American Sniper opened nationwide on Jan. 16.
Via Men's Health