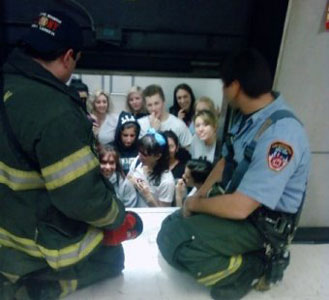 Similar to scenes from an M Night Shyamalan movie, director David M. Rosenthal, and several British actors, among others, had the unfortunate scare of their life after attending Tribeca's film premiere for Janie Jones, a film Rosenthal directed himself.  Departing from the sixteenth floor of the Gramercy Hotel in New York, according to a Vulture, the actors and others all spilled into an elevator to work their way from the roof top event to the lobby, when the elevator gave way.  Dropping dangerously below the second floor.
Moments prior to the heart dropping incident, David M. Rosenthal recounts that two individuals had got on the elevator, before it took a massive plunge straight down the shaft, losing traction. "Everyone is yelling and hooting, and the guy I'm sure was drunk and thinks it's a party. So they decide to jump in, and as soon as they jump in, the thing starts plummeting down. His girlfriend is lucky she didn't get killed because her foot was barely inside the door when the elevator dropped.  I think we fell eight stories before the emergency brake went off.  We initially thought we'd gone all the way to the basement and bounced on the springs."
Sitting idle while waiting for help to come, actor Seth Herzog of Role Models fame say he attempted to make jokes to lighten the mood.  "So, who are we going to eat first?" as well as – "We should decide how we're going to repopulate." (The crowd of fourteen only had three women.)"  
Herzog says he was secretly hoping not to die in the elevator alongside actors more famous than himself!  "I was very concerned because I knew I wouldn't get top billing."  After some time the hotel staff managed to open the doors with force, leaving the group of fourteen with only an image of their legs.  With patience wearing thin, an unidentified man in the bunch became disgruntled, reportedly dropped his drink and making his way out of the opening.  Hoping the elevator wouldn't take another forceful drop, the rest of the trapped stars also made their way out, running into the New York Fire Department.
After enduring one messy and, very disorganized ordeal, Elizabeth Mao of the Gramercy Hotel issued the following statement to Vulture.  "Yes, last night, there was an elevator malfunction as guests departed from an event at the Gramercy Terrace. Our security team responded to the incident immediately and within minutes had alerted both he New York Fire Department and the elevator company. All guests were safely evacuated. As the safety of our guests is always a paramount concern, we are ensuring the elevator car in question undergoes a thorough inspection by our maintenance provider, as well as the New York Fire Department, before placing it back in service. We anticipate the elevator car will be fully operational by this afternoon."
Meanwhile, Josh Charles of The Good Wife, who was also stuck in the elevator, has released his own statement about the elevator incident.  "Here's my quote: If anyone stays at the Gramercy, take out insurance before you ride the elevator. If you go to the Gramercy, try not to die. Use the stairs."