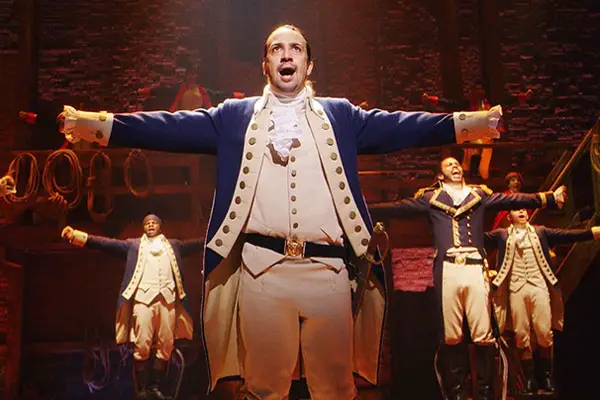 To no one's surprise, Broadway's Hamilton received an extraordinary number of Tony nominations — the most ever at 16 — meaning that the cast and crew of any other musical in the running this year might have to resign to the fact that they are going home empty-handed thanks to the Hamilton phenomenon. Basking in the success is Lin-Manuel Miranda, the writer and star of the groundbreaking musical. After receiving four of Hamilton's 16 nominations alone, Miranda spoke with the Associated Press about the musical's long development process, bringing Broadway music to the pop charts, and trying to avoid thinking about his unprecedented Broadway success.
Miranda credits much of the success of Hamilton to its long off-Broadway tryout giving him the opportunity to work on the material. He recalls, "There was a lot of talk last year on 'Go, transfer right away.' But we knew that with another at-bat we could get more into it. I knew that with six months of doing the show off-Broadway that I would know a lot more of what worked and what didn't. I had that experience with In the Heights. We were off-Broadway." That experience gave him the opportunity to understand what audiences were responding to in the most direct way possible. He continues, "I recommend to every writer ever starring in your own show feeling the audiences reaction on a molecular level every night because I knew exactly what needed to be changed and exactly what needed to be clarified going into Broadway."
Another massive success for Hamilton is the astounding success that the soundtrack has done — even among people who haven't had the opportunity to see the musical. What excites Miranda most about that particular success is that it's a throwback to a time when songs from Broadway musicals were part of pop culture. He says, "Broadway music used to just be pop music. Cole Porter, the Gershwins, Jerome Kern, Irving Berlin — it was just music. I remembered being really inspired when Rent came out. I was a teenager and Jonathan Larson said pop music and theater music should be friends again. I have always agreed with that philosophy. I think great musical storytelling is great musical storytelling, regardless of genre and I think the fact that we've thrown so many genres in the pot, sort of allows for that to creep off of the arts page."
Though Miranda is being showered with praise and accolades, he still has to perform the musical up to seven times a week (Miranda's longtime collaborator Javier Muñoz portrays Hamilton every Sunday and on other days that Miranda has other commitments). Miranda points out that because of the schedule he hasn't had a chance to bask in the success. He explains, "We can't rest on our laurels. We have a show that's 2 hours and 40 minutes with two spinning turntables inside the set. If you for a second stop to think, 'Hey man, 16 nominations,' you're going to get hit in the head with a chair or you're going to get kicked by a dancer."
In fact, because he's aware of how hard-to-get and expensive the tickets to Hamilton are Miranda realizes that most of the people in the audience for each performance are new to the show. "That keeps you from getting too big for your britches and from being overwhelmed, because the work is so hard and so gratifying that it keeps you with a level head," he says, saying it's humbling to still create "each performance from scratch."
via Yahoo!