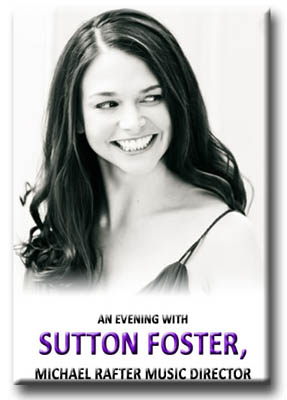 The other night I went to see An Evening with Sutton Foster and the show was wonderful.
I've seen her in a couple shows and watched tons of interviews prior to this and was really anxious to see her perform as herself.
Well, she didn't disappoint. She sang songs from the Broadway shows she's appeared in – Throughly Modern Millie, Shrek, The Drowsy Chaperone and Annie – along with a handful of other great classic songs.
I could say so many good things about the show but one thing I really to share was this: At one point, she mentioned that she's been fortunate to be in several shows that have had long runs. To keep it fresh, she pulls out a set of Angel Cards.
Basically, each card has something written on them like 'Joy', 'Drive', etc. Little statements like that. Before each show, she draws a card and then layers that statement into her performance.
Then she showed us an example. She put her hand in a cup and pulled out "Release." The audience laughed as she went limp…releasing. She then sauntered to the mike and sang a song (I wish I could remember what it was), with a "release" element to it.
She definitely over-played it to hilarious effect but you can see what she was getting at.
So, the next time you're in a long-running show, try this out!